India's Defence Acquisition Council has approved the acquisition of 33 new Russian fighters, comprising 21 RAC MiG-29s and 12 Sukhoi Su-30MKIs.
In addition, the Indian air force's existing fleet of 59 MiG-29s will be upgraded to the MiG-29M standard, says the nation's defence ministry.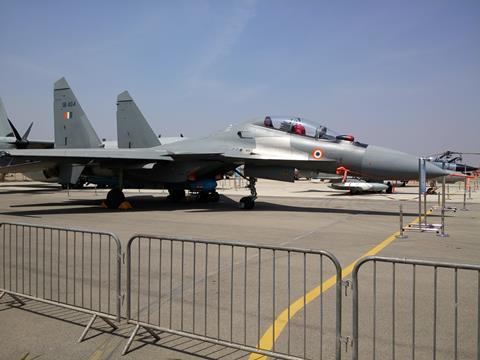 The value of the new MiG deal is pegged at INR74 billion ($964 million), and the Su-30MKI deal at INR107 billion. The Su-30MKIs will be locally produced by Hindustan Aeronautics (HAL).
The acquisitions are part of a broader INR389 billion package of defence spending that provides weapons and equipment for India's army and navy as well.
In addition to new aircraft and upgrades, the air force will also get an unspecified number of the locally-developed Astra beyond-visual-range air-to-air missile.
The acquisition of the MiGs, which has long been discussed in Indian media, was given fresh impetus following a recent border squabble with China that resulted in the deaths of several Indian soldiers and an unspecified number of Chinese soldiers. Tensions over the incident are still strong.
While the addition of new fighters and the upgrading of older MiG-29s will go some way to shoring up New Delhi's defensive capabilities, the pace of India's airpower development has lagged that of China's for the last two decades.
The Indian air force has several outstanding requirements for new aircraft, including a long-running deal for 110 advanced fighters. This process essentially replaced the torturous, yet unfulfilled, medium multi-role combat aircraft acquisition of the 2000s and early 2010s.
Candidates include the Boeing F/A-18E/F Super Hornet and F-15EX, Dassault Rafale, Eurofighter Typhoon, Lockheed Martin F-16V (rebadged the F-21 for the Indian deal), and Saab Gripen E. New Delhi's direction on this requirement is far from clear, with Indian officials publicly flirting with the idea of modernising the air force fleet with locally-produced types, namely the HAL-built Tejas and developmental Advanced Medium Combat Aircraft.
The re-emergence of great power tensions could give these and other Indian airpower requirements a renewed emphasis.