A joint UK-Qatar Eurofighter Typhoon unit has conducted its first flights, with 12 Sqn employing Royal Air Force (RAF)-owned assets.
Announcing the development on 19 June, the UK Ministry of Defence (MoD) said the Coningsby, Lincolnshire-based squadron "will provide the Qatar Emiri Air Force with valuable experience operating the Typhoon as they prepare to receive their first aircraft" in 2022.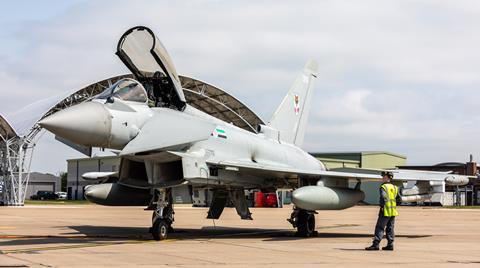 Doha in December 2017 signed a contract with BAE to acquire 24 Typhoons, with the arrangement including personnel training and a six-year support package. Also counting precision-guided weapons from MBDA and nine BAE Hawk advanced jet trainers, the business totals more than £6 billion ($7.5 billion), the MoD says.
Previously equipped with Panavia Tornado GR4s until February 2018, the reformed 12 Sqn's aircraft feature a special tail livery depicting the flags of both nations.
Images released by the MoD show the unit's assets include Tranche 3 production-standard Typhoons.
Qatar's minister of state for defence affairs, Dr Khalid bin Mohammad al Attiyah, says the co-operation represents an "alignment of vision and strategy in building for a stable and prosperous future for both nations and the world".
"Together we are protecting populations and securing our mutual interests across the Middle East," says Ben Wallace, UK defence secretary. The MoD notes that the unit is the RAF's first joint squadron since the Second World War.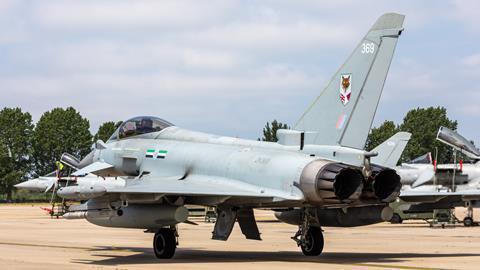 BAE says new infrastructure investment made at the Coningsby site includes a 12 Sqn headquarters building, eight aircraft shelters, two storage hangars and a ground equipment store.
Prior to commencing flying with the new unit, an initial batch of Qatari pilots completed the RAF's Typhoon operational conversion unit course at the same base.