The UK's Marshall Aerospace and Defence Group will provide in-service support services for a trio of Lockheed Martin KC-130J tanker/transports for the Kuwait air force, after securing the business via the US government.
Announcing its contract receipt on 6 January, Marshall said it will perform "planned maintenance interval inspections, full aircraft repainting and specific overhaul tasks this year" for the customer.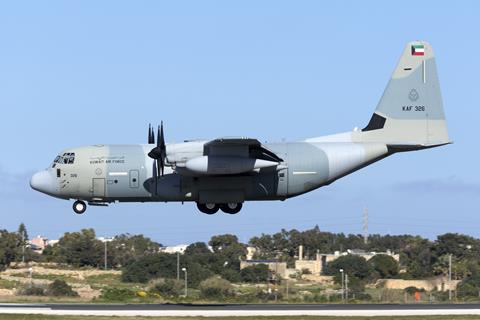 Kuwait ordered its KC-130Js in 2010, with deliveries of the Rolls-Royce AE2100D3-powered assets having commenced in August 2014. In addition to providing inflight refuelling support for its Boeing F/A-18C combat aircraft, the turboprops also augment the nation's pair of Boeing C-17 strategic transports.
At the time of placing its order for the Lockheed type Kuwait held options to potentially add a further five KC-130Js, but did not proceed with a follow-on procurement.