Boeing supplier Spirit AeroSystems has started producing the first P-8A Poseidon maritime patrol aircraft for New Zealand, putting Boeing on track to deliver that country's first P-8A this year.
P-8s are based on Boeing 737-800 commercial jets. Wichita-based Spirit produces fuselages for the civilian and military variants.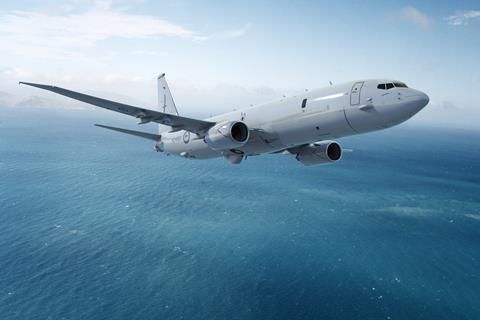 Spirit has now "laid the keel" of the first P-8A destined for the New Zealand Defence Force, Boeing said on 17 March. New Zealand holds orders for four of the jets.
Aircraft keels run the length of fuselage bellies, though P-8 keels have "unique aspects of the P-8 configuration, such as the integration of an internal weapons bay", Boeing says.
Spirit produces and then ships P-8 fuselages to Boeing's 737 assembly facility in Renton, Washington. There, Boeing staff will "install mission systems and complete testing prior to delivery to New Zealand later this year", the US airframer says.
The New Zealand Defence Force will use the Boeing-built maritime patrol aircraft, powered by CFM International CFM56 turbofans, to replace six ageing Lockheed P-3K2 Orion turboprops.
Boeing has landed eight countries as P-8 customers. Current operators include the armed forces of Australia, India, Norway, the UK and the USA. Customers yet to begin flying the jets include Germany, New Zealand and South Korea.
India operates the P-8I variant; other customers chose the P-8A.