Spain has officially signed for the acquisition of 24 Pilatus PC-21 trainers, confirming its pre-Christmas selection of the Swiss-built turboprops.
Madrid will use the new aircraft to replace its fleet of elderly CASA C-101 jet trainers, which have been in service since 1980.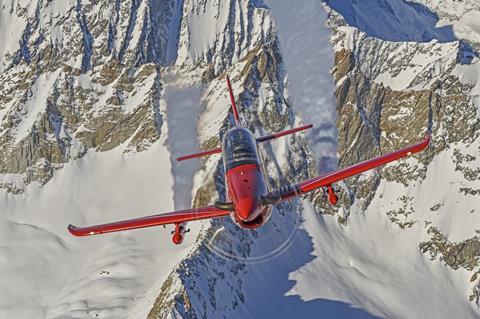 Worth a total of €204 million ($226 million), and including simulators and support, the contract was signed on 30 January by Spain's DGAM military procurement agency.
Pilatus faced competition for the requirement from the Beechcraft T-6 and Embraer EMB-314 Super Tucano.
"As a small Swiss aircraft manufacturer I'm delighted at our repeated success in winning through over large, international competitors," says Oscar Schwenk, Pilatus chairman. "This result is proof that, with our PC-21, we can deliver the very best training system in the world."
The first six aircraft are due to be delivered this year, according to contract documents, and training activities are due to commence in 2021.
Pilatus has sold 235 PC-21s to nine air forces, including those of Australia, France, Jordan, Qatar, Saudi Arabia, Singapore, Switzerland and the United Arab Emirates.