The Aerospace Industrial Development Corporation (AIDC) T-5 Brave Eagle advanced jet trainer has conducted its maiden flight from Ching Chuan Kang air base near the city of Taichung, Taiwan.
The flight involved the aircraft registered 11001 and occurred on the morning of 10 June, according to a brief statement posted by Taiwan's Military News Agency.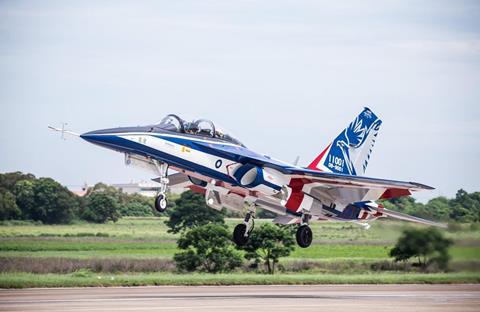 During the 20min sortie the aircraft did not raise its landing gear, according to media reports from Taiwan. Preliminary flight testing will continue until an "official" first flight on 22 June, with Taiwan president Tsai Ing-wen in attendance.
The T-5 was unveiled by Tsai at a September 2019 ceremony. At the time plans called for a first flight in June 2020.
A joint programme between state-owned National Chung-Shan Institute of Science and Technology, the Republic of China Air Force, and AIDC, the T-5 is based on the twin-seat version of the F-CK-1 Indigenous Defence Fighter, but 80% of its components are new.
Key changes include greater use of composites, more fuel capacity, a wing optimised for slower, more stable low-level flight, and the removal of the fighter's gun.
The T-5 is powered by a non-afterburning Honeywell/ITEC F124-200TW.