The United Arab Emirates' first of potentially five GlobalEye swing-role surveillance aircraft has touched down in Abu Dhabi following a delivery flight from Linkoping, Sweden.
Arriving on 29 April, the aircraft was the second of three GlobalEyes prepared for the UAE, and first flown as SE-RMZ in January 2019. This asset had been used primarily for system-level testing, including of its data links, and command and control trials in support of the development activity.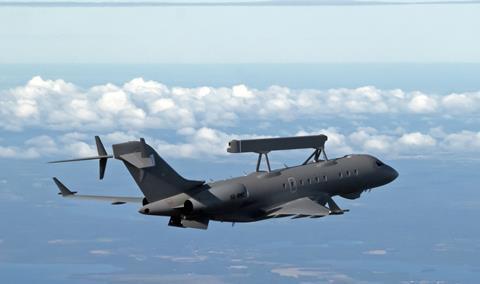 Acceptance testing will now be conducted by UAE air force personnel, with this process supported by Saab's in-country team. It has already delivered training for the customer's pilots and ground-system operators.
A schedule for subsequent deliveries has not been disclosed, but Saab chief executive Micael Johansson notes that the company has a "rather tight schedule".
Once operational, GlobalEye will provide the UAE with the capability to simultaneously perform surveillance of airborne, land and maritime threats. Its sensor suite includes Saab Erieye ER airborne early warning and Leonardo Seaspray 7500E maritime search radars.
Saab launched the Bombardier Global 6000 long-range business jet-based GlobalEye with a two-aircraft order at the Dubai air show in November 2015. The UAE subsequently signed for a third unit, before Saab last November announced that it was in negotiations to deliver a further two.
Johansson says discussions are continuing with the UAE over the follow-on deal, which the company has previously valued at around $1 billion.
"We are still in negotiations, according to the plan," he says, adding: "I look forward to concluding that [process] as quickly as possible."
While Bombardier has progressed production to the Global 6500 airframe, Johansson says Saab has options to acquire two more green examples in the 6000 configuration to meet UAE requirements.
Johansson says Saab is confident of securing further orders for GlobalEye, with Finland, South Korea and Sweden viewed as potential future users. He describes adapting the system for Bombardier's Global 6500 as "not a major effort", but rather "an incremental work package".