The US Air Force (USAF) has temporarily grounded over 100 of its Lockheed Martin C-130 Hercules cargo transport aircraft.
The move came on 3 October, following the discovery of cracks on multiple propeller barrel assemblies of the C-130H model.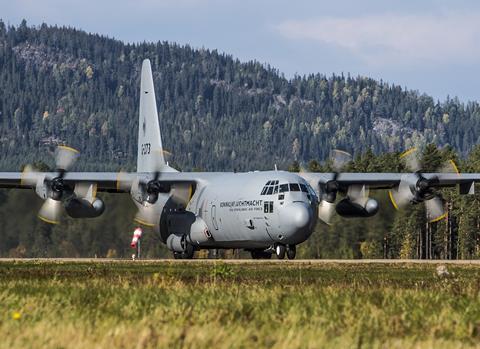 "These discoveries drove the first safety time compliance technical order (TCTO) to conduct a field level visual inspection on all C-130H model aircraft with the 54H60 props installed," the USAF's Air Mobility Command (AMC) explains.
"After additional review, including metallurgical and detailed stress analysis, the command released an immediate-action TCTO directing replacement of a variety of specific suspect propellers," the AMC adds.
The four-bladed Hamilton Sundstrand 54H60 propeller system powers many of the older C-130 airfarmes. The AMC says an initial assessment estimates that as many as 116 aircraft are affected, but notes that number may change as TCTO-directed inspections take place.
However, not all C-130 types are impacted. The AMC notes C-130H aircraft that have been upgraded with the Collins Aerospace NP2000 eight-bladed propeller assembly are not affected by the grounding order. The newer C-130J models are also not impacted by the issue.
The AMC oversees the USAF transport fleet, which provides worldwide logistics support to the US military, including the ongoing effort to supply the Ukrainian military in its war against a Russian invasion.
The command says it is committed to ensuring the safety of USAF servicemembers and will work with "technical experts" to solve the problem. Despite the number of aircraft now grounded, officials say the USAF will still be able to maintain normal operations.
"We have the sufficient airlift to meet our global requirements during this stand-down," an AMC representative notes.