The US government has cleared a potential $675 million deal for the sustainment of South Korea's fleet of Lockheed Martin F-35A fighters.
The Foreign Military Sale package includes follow-on support for the aircraft, engines, weapons, spare parts, software, training, and other elements. It follows a request from the Seoul.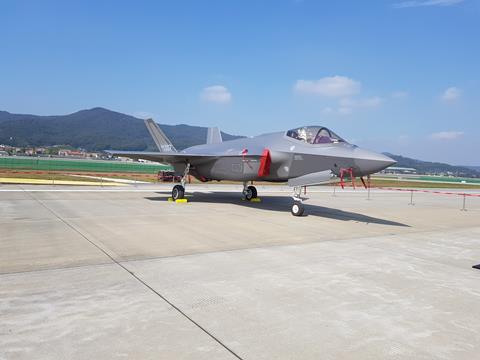 "The proposed sale will sustain the Republic of Korea's flight and maintenance activity," says the Defense Security Cooperation Agency.
"It will improve sustainability and continue support for the F-35 fleet. The Republic of Korea will have no difficulty absorbing this support and services into its armed forces."
The key contractors for the work are Lockheed and Pratt & Whitney, which produces the jet's F135 engine.
South Korea is in the process of taking delivery of 40 F-35As. Cirium fleets data shows that the Republic of Korea Air Force has 11 in-service examples.