The US government has cleared a potential sale of Mode 5 Identification Friend or Foe (IFF) and the Link 16 tactical datalink to South Korea for its Lockheed Martin F-16s.
The deal is worth $194 million, and includes a range of services and equipment related to the acquisition, says the US State Department.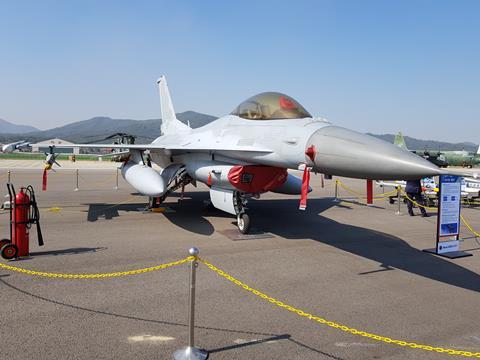 "The proposed sale will improve the Republic of Korea's capability to meet current and future threats by increasing its interoperability with U.S. Air Force and other coalition forces through an improved datalink and Mode 5 IFF, producing a more effective Alliance for its F-16 fleet," it says.
"The Republic of Korea will have no difficulty absorbing this upgrade into its armed forces."
Lockheed is the main contractor for the deal.
Seoul is in the process of upgrading 134 F-16 C/Ds to the F-16V standard, with new avionics as well as an active electronically scanned array (AESA) radar, the Northrop Grumman APG-81.