Airbus Defence & Space has furthered its flight-test activities on the C295 by demonstrating the medium transport's ability to transfer fuel during an initial series of "wet" contacts.
Performed in January from the manufacturer's final assembly site in Seville, Spain, the air-to-air refuelling (AAR) flights involved an Airbus test aircraft and a Spanish air force C295 receiver.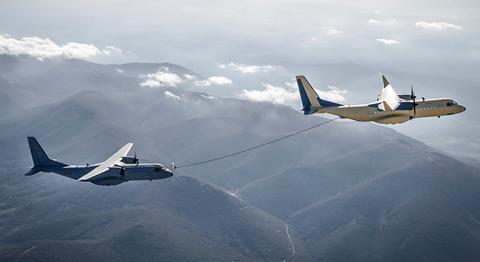 "In total, the aircraft fitted with the removable AAR kit performed five wet contacts, transferring 1.5t of fuel," Airbus says. The activity was conducted in daylight conditions across a flight envelope of 100-130kt (185-240kt), it adds.
Once adapted for the tanker role, the C295 deploys a 30m (100ft)-long refuelling hose from its closed cargo ramp, with operations supported via the use of a remote vision system.
"The flight test campaign also included night flight operations and the successful proximity test in pre-contact position with a Spanish air force [Boeing] F-18 fighter at a flight speed of 210kt," says Airbus.