Two of China's three largest carriers appear to be putting off taking new Boeing 737 Max aircraft in the near term, casting uncertainty the twinjet's prospects in one of Boeing's largest markets.
Fleet plans from Air China and China Eastern Airlines - disclosed as part of their full-year results - omit 737 deliveries through 2024.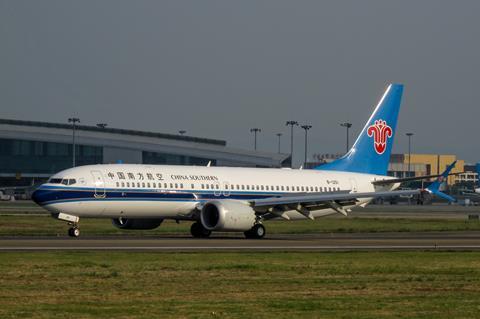 Only China Southern Airlines – the country's largest airline – expects to take a large number of 737 Max aircraft across the same period of time, including 39 jets this year. According to Cirium fleets data, the Guangzhou-based carrier and its subsidiaries have close to 60 examples on order.
China Eastern says the delivery plan for 737 Max aircraft "has not been included in future planning", stating that the type remains grounded.
China, the first country in the world to ground the 737 Max following fatal crashes in late 2018 and early 2019, recertified the aircraft in early December 2021, paving the way for an eventual return to service, and for deliveries to resume.
China Eastern's disclosure follows a similar decision to omit the 737 Max from delivery projections in August, when the type was still grounded in China. The Shanghai-based carrier and its subsidiaries have 15 737 Max 8s on order, and a further five in storage.
Air China, which did not provide a reason for cutting the 737 Max from its fleet forecast, has 21 Max 8s on order, and another 16 in storage. Subsidiary Shenzhen Airlines, meanwhile, has 16 on order, and five in storage.
Boeing in February said its completion and delivery centre in Zhoushan, China, was ready to support deliveries of the 737 Max to Chinese operators when they resume. The airframer has previously stated that it expects to resume 737 Max deliveries to China from the first quarter of this year.
On 1 April, industry publication The Air Current reported that Boeing is cutting back productions plans for the 737 Max bound for Chinese operators, a possible reflection of the uncertainty the type faces in its return to service.