ANA Holdings' airline units expect to expand their fleet beyond pre-pandemic numbers by 2030, with Boeing 787s expected to have a significant presence in the future fleet.
In fleet plans disclosed alongside a three-year business strategy announcement, ANA Holdings says it expects to operate a fleet of at least 100 Boeing 787s by 2030, or about 35% of the group's total fleet.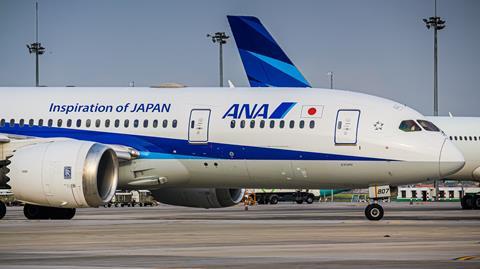 The airline group has a fleet of 79 787s in its fleet currently, with orders for 19 more examples, according to Cirium fleets data.
By end-March, ANA Holdings, which comprises mainline carrier All Nippon Airways, low-cost unit Peach, as well as soon-to-launch medium-haul carrier AirJapan, will operate a fleet of 267 aircraft, down from the pre-pandemic fleet size of 300 aircraft.
In fiscal 2025, which starts in April 2024, the three carriers will see their fleet size increase up to 295 jets, led by an increase in narrowbody and mid-sized aircraft.
At the height of the pandemic in 2020, ANA said it would cut the number of large aircraft – made of up 777s and Airbus A380s – from its fleet, amid a collapse in international travel.
The airline group's large aircraft fleet by end-March is forecast to be 33 aircraft, nearly half of pre-pandemic numbers.
Mid-sized aircraft, which includes its 787s and 767s, remains stable at 103 jets, but is expected to grow to about 110 jets over the next year. Narrowbody aircraft, meanwhile, will grow from the current 107 jets to 115 by April 2024.
Mid-sized and narrowbody aircraft made up about 72% of group fleet in pre-pandemic 2019, and ANA Holdings expects to increase that proportion by 2030 to about 80% of its fleet.
With post-pandemic travel recovery continuing, ANA adds that it will shift its aircraft allocation to international flights. Data from the airline group shows that by 2030, about 45% of its fleet will be dedicated to operating international flights, up from the pre-pandemic 40%.