Irish carrier Aer Lingus is to lease a pair of Airbus A320neos from CDB Avaition, aircraft originally slated for Russian carrier Smartavia until sanctions stemming from the invasion of Ukraine took hold.
Aer Lingus is set to put the aircraft into service late next month and will replace a pair of current-generation A320s which are being retired.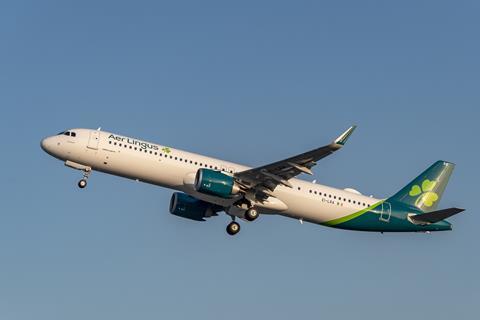 The twinjets will be first A320neos to join the Oneworld carrier's fleet. Aer Lingus already operates eight of the larger A321LR aircraft, alongside 37 A320s.The airline is due to take another two A320neos next year, and is also a customer for six A321XLRs. The longer-range variant undertook its maiden flight earlier this month.
Aer Lingus chief executive Lynne Embleton says: "This is a great opportunity to bring new, state-of-the-art aircraft into our short-haul fleet. Renewing our fleet is one of the key ways for Aer Lingus to meet our sustainability targets, which is a priority for us over the coming years.
"The new generation Airbus A320neo aircraft is much more sustainable in terms of fuel burn and CO2 emissions and this is not only important to Aer Lingus but also to our customers. Equally, these more environmentally friendly aircraft incur lower landing charges in some key airports so the new A320neos will help us to reduce costs."
The two aircraft, MSN10712/10786, were originally built by Airbus to be delivered to Russian airline Smartavia in March, but have now become available to Aer Lingus because of the ongoing sanctions against Russia.
Aer Lingus plans to deploy the new A320neos predominantly on the Dublin-London Heathrow route.