Aerolineas Argentinas hopes to add 10 more Boeing 737 Max jets over the next three years under a fleet growth plan.
The SkyTeam carrier, which became became the first Latin American airline to operate the Max in late 2017, currently operates seven 737-8s.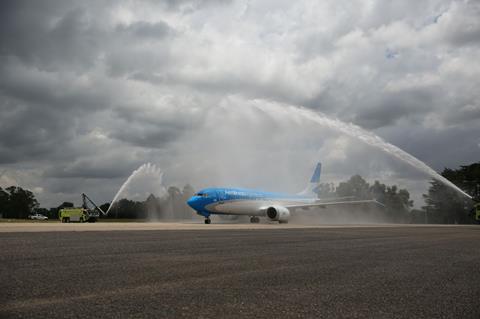 Speaking on the sidelines of a press briefing in Buenos Aires on 17 October at the ALTA Airlines Leaders Forum, Aerolineas Argentinas chief executive Pablo Ceriani said: "Our fleet plan is to take 10 more Max's in the the next three years, hopefully three next year, probably three, four and three [over the next three years]."
Cirium fleets data show Aerolineas has seven Max jets on order, though Boeing in its monthly orders and deliveries update for August disclosed the airline had cancelled one Max jet order.
"It is working very well," Ceriani says of the Max. "We didn't have any problems. It's a very versatile aircraft. The range is greater so we can have other destinations with a narrowbody that we couldn't have previously, so we are using it go to Peru and central Amercia. So it's working really well."
The Max jets will provide steady growth envisaged by Aerolineas Argentinas over the coming years as it emerges from the pandemic, but with global economic headwinds.
"We are surpassing pre-pandemic levels next year," he says, but notes that because of the current economic uncertainty it is planning to grow by three aircraft a year – the equivalent of roughly 5% growth.
"We will see how demand evolves. If everything goes just as well as now, and fares stay high and growth continues to be strong, probably we will have to revise that. If we have problems with oil prices and world recession, we will just stay the way we are. But we are planning to have growth of 5% a year from next year onwards," Ceriani says.
Aerolineas Argentinas is also looking at potentially updating some of its Airbus A330-200 fleet with re-engined A330neos. Cirium fleets data show that while four of its A330-200s are aged between 6-8 years, it has five that are 14 years or older – the oldest of which is 22 years old.
"We have the A330. We are about to have 10 A330-200s," says Ceriani. "We are trying to see if we can move a part of the fleet to the A330neo.
"It is a big chance, because it would be very easy for us to operate that aircraft because it has the same pilots/parts mechanics etc, so that would be the easiest thing to do.