Mexican carrier Aeromexico intends cut its Boeing 737 Max orders and acquire more 787s as part of a proposed restructured aircraft purchase agreement with the Chicago airframer, according to the airline and court papers.
On 22 April, Aeromexico said it reached "restructured agreements with the manufacturer and certain lessors". It now plans to "increase its fleet with" 24 737 Max and four 787-9s.
The airline, which is operating under US bankruptcy court protection, currently has 54 737 Max and two 787s on order with Boeing, according to Cirium figures.
But in court papers, Aeromexico proposes amending its "Boeing agreement to reduce both the number of aircraft the [airline and its partners] acquire, and the cost of each aircraft".
The initial purchase agreement "required [Aeromexico] to buy more Boeing 737 Max aircraft than their current business plan requires, at prices above current market rates", says the document, filed on 23 April with the US Bankruptcy Court for the Southern District of New York.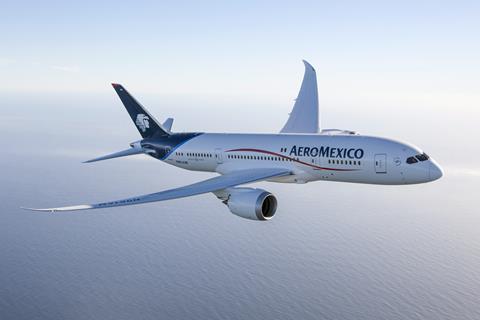 The revised agreement is subject to bankruptcy court approval, and deliveries should begin in the coming months, according to Aeromexico.
Neither the airline nor Boeing responded to requests to clarify changes to the airline's orders. Aeromexico's current fleet includes 47 Embraer 190s, 42 Boeing 737s (including six 737 Max) and 18 Boeing 787 Dreamliners.
The airline proposes to sell and lease back some 737 Max, working with lessors including AerCap, Clover Aviation Capital and Jackson Square Aviation, court papers say.
"These transactions show the confidence of our employees, customers, lessors, manufacturers, investors and business partners in the future of Mexico's global airline," chief executive Andres Conesa says. "It will also give us flexibility to complete other negotiations and put Aeromexico on a strong path to exit Chapter 11 later this year."
The airline expects to have the first nine new aircraft in service by the busy summer travel season, with the balance arriving in the second half of 2021 and 2022. It says it acquired the aircraft and "their economic terms are highly competitive compared to current market levels".
"These transactions make it possible for Aeromexico to modify long-term maintenance contracts and reduce leasing costs of 18 other aircraft that are part of the current fleet." the carrier says. "Aeromexico estimates that reaching this comprehensive agreement will lead to total savings of approximately $2 billion.
Earlier this week, the carrier reported a small rise in international capacity during the first quarter of 2021, as it works to recover from coronavirus crisis and continues to work through bankruptcy proceedings.
It saw "encouraging signs of recovery," the airline said.
In the first quarter of 2021, Aeormexico's revenue fell 51% year-on-year to Ps6.9 billion ($346 million), down from Ps14.2 billion during the same quarter in 2020, the carrier says. The company's net loss for the January-March period was Ps4.2 billion, compared to Ps2.5 billion a year earlier.