Air Astana has almost completed the early replacement of its Boeing 757s with Airbus A321LRs and of its Embraer 190 regional jets with E190-E2s as it adapts its fleet requirements to the new market environment.
"We grounded eight aircraft – all of the Boeing 757s and the Embraer 190s back in March," explains Peter Foster, chief executive of the Kazakhstan flag carrier in an interview with FlightGlobal. That move came towards the beginning of the pandemic.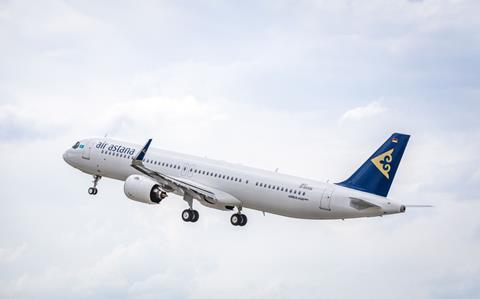 "We have managed to negotiate early lease terminations on those aircraft – those have either gone back or are going back. Those aircraft were going to go at some point, we've just accelerated the departure. That leaves us with the Airbus fleet, the E2s and the 767s."
He describes the A321LR as its "flagship" aircraft – noting that it is able to deploy a 16-seat business-class cabin with lie-flat seats on the type.
The group operates the A320/A321neos in the mainline operation, while its older Airbus narrowbodies are in service at the carrier's growing budget arm FlyArystan – which launched in May 2019.
"They [the Airbus aircraft] are operating at roughly 75% of what would be normal utilisation – so that is pretty good," Foster says. "The Embraer fleet is operating at about 70% of normal utilisation."
The carrier has also found new roles for its three 767s as a result of the crisis. "One we converted into a semi-freighter – took out the seats. That aircraft has been doing a lot of work and a lot of charters," Foster says.
While the other two 767s were initially grounded, Foster notes they are now in service in part because of a requirement for larger capacity aircraft on frequency-constrained routes. The airline, for example, is only able to operate one weekly service to Russia at present because of travel restrictions.
"Because capacity is so restricted, demand is huge. And because we are frequency restricted to Tashkent and Moscow now, but we are not guage-restricted, we have put the 767s on those routes. So they are really working and we are getting about two-thirds of utilisation out of those aircraft."
The airline has a long-standing commitment for three 787s - dating back to 2011. Delivery of these aircraft had already been deferred until 2023 before the crisis, the airline's annual report shows. While the carrier's long-haul network is still to recover from the pandemic amid continued travel restrictions, Foster says: "By the time they get here, hopefully things will have changed so we are not worrying too much about that."
The airline in November last year also signed a letter of intent covering 30 737 Max jets for use by FlyArystan, one of the few orders for the type since its grounding earlier in 2019. Boeing has said it expects the FAA will re-certificate the Max in time to allow for deliveries to resume in the fourth quarter of this year. Air Astana's provisional commitment had envisaged deliveries from late 2021.
Noting the announcement was a tentative agreement subject to further discussion, Foster says there is "nothing further to add at this point" regarding the deal.