Air Baltic would still consider taking a stretched version of the Airbus A220 – widely dubbed the A220-500 – should the variant become available in the right timeframe for its outstanding order options.
Speaking to FlightGlobal at the Airlines for Europe (A4E) Aviation Summit in late March, the carrier's chief executive Martin Gauss said discussions on a stretched version of the Pratt & Whitney PW1500G-powered jet have been "going on for a while", but that the airframer was yet to formally commit to a programme.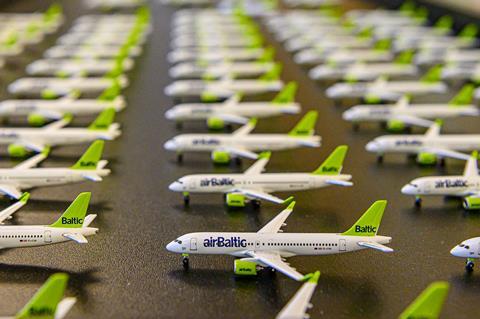 Indeed, Airbus has openly talked about the concept in recent years, with chief executive Guillaume Faury reiterating in February that a stretched A220 is a "matter of when not if", while stressing it is not a short-term priority despite "a very strong appetite" in the market.
Gauss highlights the potential efficiencies of augmenting its all-A220-300 fleet with a variant that features more seats, explaining that should it become available in the timeframe covered by Air Baltic's 30 order options, "I'm sure that is something we will look at".
Air Baltic is due to receive all of the A220-300s from its initial 50-unit firm order by 2025, but then has 30 options available as part of that deal.
Gauss stresses, however, that Air Baltic needs to make a decision on its outstanding options soon – perhaps too soon for the A220-500 to be included in any firming of the order.
"For exercising the options we have now, the horizon we have to take aircraft in is pretty soon, because in five-and-a-half years we need to replace our first [A220-300] when the 12-year term is up," he says in reference to the age of some of its existing A220-300s, which it began receiving – then from Bombardier – in late 2016.
His views on a potential -500 variant contrast sharply with those on the smaller aircraft in the range, the existing A220-100, which he says is "excluded" from consideration.
As Air Baltic's fleet evolves, Gauss confirms that a proportion of the operator's aircraft will continue to be wet-leased out for the foreseeable future and that the airline is seeing favourable financial returns from such deals. Some 14 of its current 40 A220-300s are being wet-leased out for the summer season – including several to Lufthansa Group – partly as Air Baltic's own post-Covid capacity has moderated amid the impact of the war in Ukraine.
Air Baltic's current view is that the Baltic countries can accommodate around 40 A220-sized jets by end-2025 – some 10 fewer than it identified before the pandemic and Russia's invasion of Ukraine.
Like Air Baltic, Air France has often expressed an interest in a stretch of the A220, and in 2019 specifically referred to an "A220-500" in a presentation on its fleet plans.
"If Airbus builds a series -500, a larger model, a -400, whatever it calls it, we'd be very interested in that airplane," said Air France-KLM chief executive Ben Smith at the time.
Gauss has previously told FlightGlobal that the Airbus A321XLR would be of interest to Air Baltic in the longer term, outside its current order options.