Global supply chain issues mean Air Baltic is looking to carriers including Ukraine International Airlines for short-term leased capacity as maintenance schedules for its own jets are extended.
The all-Airbus A220-300 operator announced on 30 April that it was wet-leasing one UIA Boeing 737-900ER from 1 May on a short-term basis, while Cirium fleets data also shows the carrier has a single Airbus A319 on lease from Romanian charter carrier Dan Air – formerly Just Us Air. Furthermore, schedules show Air Baltic is set to operate an Embraer 190 on some services in the coming few days, but details on its provenance are unavailable.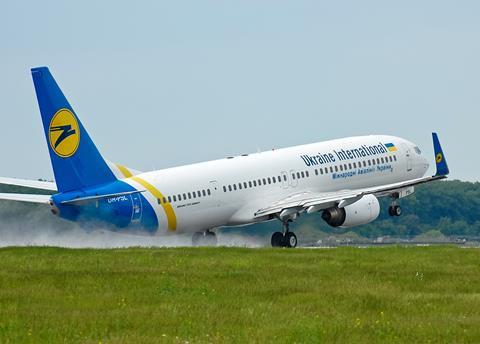 Rather than reflecting a fundamental lack of capacity at the airline, however, the inbound leases come amid a short-term issue with sourcing spare parts for the carrier's A220 jets, Air Baltic explains.
"Alongside global supply chain issues, the airline is currently experiencing a lack of spare parts for its aircraft, therefore some of the maintenance schedules are extended," it says. "The length of the wet lease will be adjusted to company's needs.
"Such a decision enables the company to ensure its planned flight schedule."
Air Baltic would not be lacking capacity without the spares issues, having said during a recent financial results briefing that its home markets were recovering more slowly than it had hoped – notably amid its near-neighbour Russia's invasion of Ukraine – and that it was wet-leasing out at least 12 of its 34 A220s to carriers including Eurowings and SAS.
As it seeks capacity to cover the supply-chain issues, Air Baltic chief executive Martin Gauss highlights UIA as a "reliable long-term partner", adding: "It is now a very challenging time for the Ukrainian people and their national airline. By temporarily wet leasing their aircraft, we are also providing short-term work to the employees of Ukraine International Airlines."
UIA's website shows that while operations from its home country are currently impossible amid the Russian invasion, it continues to offer charter, humanitarian and wet-lease services.
UIA's vice-president of commerce Sergey Fomenko states: "We would like to thank our very good partner and friend Air Baltic for selecting Ukraine International Airlines as a capacity provider on an ACMI basis for its network.
"Especially now, when UIA temporarily cannot operate flights to and from Ukraine such an act of international aviation cooperation is very symbolic and important."
Flight-tracking website flightradar24 shows Air Baltic operating its leased aircraft on services from Riga to destinations including Athens, Berlin, Madrid, Oslo, Palma, Rome and Split.