Air Canada has sealed sale-and-leaseback transactions for three Boeing 737 Max 8 aircraft with Jackson Square Aviation and six Max 8 aircraft with Avolon for total proceeds of $365 million.
Boeing delivered these nine Max aircraft to Air Canada during the past three years, the carrier stated 8 October in the announcement of the transactions, which will also provide long-term lease commitments of $345 million.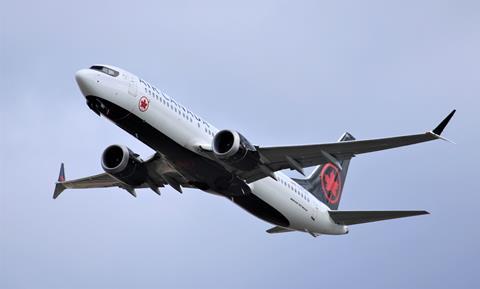 The transactions are part of the Montreal-based carrier's work to bolster its liquidity, which it says stands at "almost $6 billion".
"Air Canada will continue to explore financing arrangements as additional liquidity may be required or to refinance existing debt to push out maturities," the carrier states.
The airline at the end of September also completed two longer-term refinancing transactions that total $1.52 billion, replacing short-term facilities to finance the purchase of Airbus A220 aircraft and to repay a bridge loan facility.
Air Canada will report its third-quarter earnings on 9 November.