Air Canada says it has cancelled orders for 11 Boeing 737 Max aircraft as it reassess its needs in the wake of the troubled aircraft's year-long grounding.
The Montreal-based airline currently has 24 737 Max aircraft in its fleet. After the cancellations, it still has orders for 26 737 Max, plus options for 18 aircraft and rights to purchase an additional 30.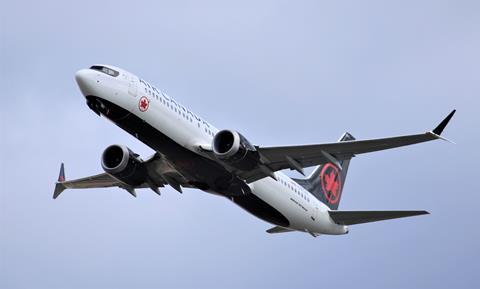 The global grounding of the Max, which was ordered a year ago this week following two fatal crashes that killed 346 people, had forced operators of the new-generation single-aisle jets to scramble to find alternative aircraft and cancel or delay thousands of flights.
"This decision reflects our evolving, long-term fleet planning requirements," the airline says. "Aircraft purchases are long-term commitments based on future projections. We placed our original order for the Boeing 737 Max in 2013 with final delivery originally expected in 2021. Since that time, our requirements have evolved, so we are making adjustments to our order to better meet our anticipated needs."
At the end of 2019, Canada's flag carrier had planned to have 36 Max flying, which would have amounted to just under one-quarter of its entire fleet. By the 2020 peak summer travel season, the company had planned on operating 50 of the aircraft type.
Air Canada says it is still "fully committed" to the aircraft. "We are actively preparing to return this aircraft to service following regulatory and other safety approvals," the airline adds.
Boeing suspended production of the aircraft in January, and most airlines have taken the type out of their schedules through the second quarter of the year, which includes the beginning of summer travel season. The FAA has not yet said when it expects to recertificate the aircraft for revenue service.