Air Canada now intends to make good on taking delivery of 12 ordered Airbus A220s that it had previously intended to cancel.
In November 2020, amid the pandemic, Montreal-based Air Canada said it was "cancelling" orders for 12 of the Airbus narrowbodies. The airline "will not be purchasing" the jets, Air Canada said at the time.
That is no longer the case.
"We plan to add 12 more A220s to the fleet," Air Canada chief financial officer Amos Kazzaz says on 18 February. "These are the 12 aircraft that we had previously determined that we would not be purchasing."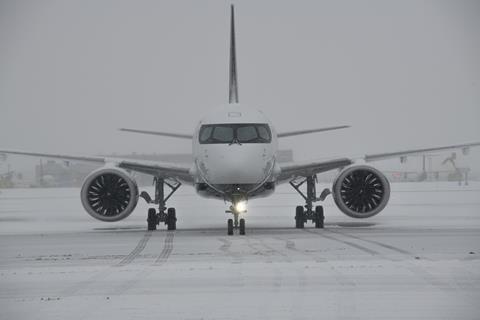 In financial filings, Air Canada notes it decided in January to "proceed with the purchase" of 10 of the 12 jets. It decided last year to purchase the other two.
Air Canada expects to receive six of the dozen A220s in 2024, and the remaining six in 2025, Kazzaz says.
With 27 A220-300s already in its fleet and another 18 on order, Air Canada plans eventually to operate 45 of the jets.
The carrier placed the 45-jet order in June 2016, then in November 2020 said it would not take 12.
Despite the intention, Air Canada appears never to have actually cancelled the deals – Airbus has kept them in its backlog.
Air Canada did not respond to a request for more information.
Airbus says only, "We acknowledge our customers' decision to proceed with all 45 A220 aircraft deliveries from the initial purchase agreement".