Lessors are discussing new rent-deferral arrangements with Air Europa as the Spanish carrier navigates towards fresh state-backed financial support, sources have told Cirium.
One lessor says it is negotiating a second deferral agreement with the airline, having had a first one in operation until December 2020. "We are looking to get at least the debt serviced, and [Air Europa parent] Globalia is looking to pay less," the source says.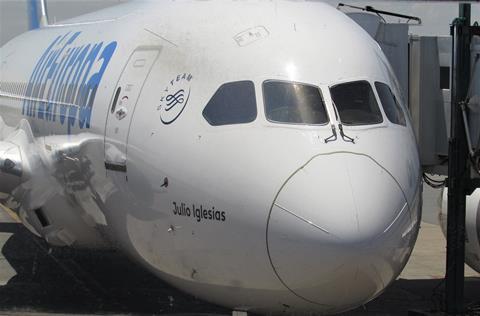 Another lessor says that it is likewise in talks with Air Europa having received payments until December.
Europa Press on 11 February reported Valentin Largo's appointment as chief executive of Air Europa, saying it had been mutually agreed by SEPI – a state agency set up to support companies impacted by the pandemic – and Globalia.
Largo has previously worked for Air Nostrum as well as IAG carriers Iberia Express and Vueling.
A source says the appointment of a chief executive agreeable to SEPI was a condition for the agency to release a further €100 million ($120 million) of funding to Air Europa, as part of a €475 million state-backed loan agreed in November 2020.
Cirium fleets data shows that the Spanish airline has a fleet of 42 aircraft, all of them leased. They comprise 18 Boeing 787s, 20 737NGs and four Airbus A330s.
Air Europa leases four 737NGs from Aviation Capital Group, two from AerDrago Aviation Leasing, five from GOAL, two from AMCK Aviation, four from Goshawk, two from Itochu and one from Merx Aviation.
Five 787s are leased from SMBC Aviation Capital, one from Windward Aircraft Management, one from DAE Capital, four from BOC Aviation, three from Avolon, two from Jackson Square Aviation and one each from AerCap and BBAM.
Macquarie AirFinance, Aircastle, Carlyle Aviation Partners and Zephyrus Aviation Capital lease one A330 each to the Spanish carrier.
The appointment of former IAG employee Largo comes as the group closes in on its planned acquisition of Air Europa.
IAG in November agreed to buy the Spanish airline for €1 billion in November 2019. But following the onset of the pandemic it entered negotiations to cut the purchase price. In January 2021, IAG said it had agreed a new price of €500 million for the carrier.
Under the revised deal, the €500 million payment will be deferred until the sixth anniversary of the acquisition's completion. The purchase is set to close in the second half of 2021.
Globalia has been contacted for comment.