Air India has signed a letter of intent for 250 Airbus jets, including 40 A350 widebodies alongside A320neo-family narrowbodies.
The carrier, which Tata Sons acquired a year ago, has been working on a major jet order. That reportedly includes 190 Boeing jets in addition to the Airbus aircraft.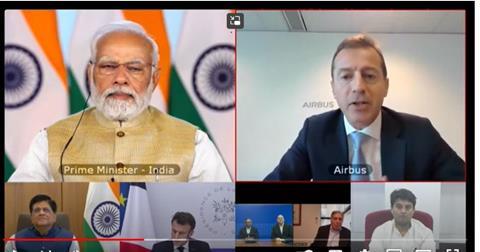 Speaking in an announcement ceremony on 14 February, Air India chairman N Chandrasekaran said: "Today…we have signed a letter of intent to acquire 250 aircraft, 40 of them on the widebody…and 210 narrowbody.
"We also have significant fleet options, to increase the fleet order once we grow."
Airbus chief executive Guillaume Faury, speaking at the same event, said: "We are very proud that the Tata Group has chosen the A350 and the A320neo to script Air India's revival. The magnitude of the order demonstrates the appetite for growth in the Indian aviation industry."