Air India is expected to make an imminent aircraft order announcement, as owners Tata Sons today marked a year since they took control of the carrier.
In an infographic accompanying a staff note from airline chief Campbell Wilson, Air India says it is "finalising a historic order of new aircraft" which it says will "power future growth". No further details were disclosed in the 27 January remarks.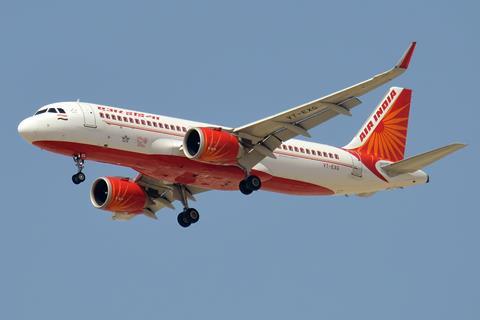 Air India's fleet renewal plans have been the subject of speculation after it was bought over by Tata a year ago. In December 2022, Reuters reported that Air India was closing in on a 500-aircraft order, representing what could be the single largest order in history. The order will reportedly be split between Boeing and Airbus.
Subsequently, another Reuters report, citing sources close to negotiations, states that Air India will officially place orders for 220 Boeing aircraft - comprising 737 Max narrowbodies, 20 787s and 10 777Xs - on 27 January. The report adds the Airbus order, covering more than 200 A320neo family aircraft and 40 A350s, is expected to be wrapped up a few days later.
Neither Air India nor the two airframers have publicly commented on the impending order.
Air India in December announced a series of aircraft leases, including for A320neos and 777-200LRs and -300ERs, as it "aggressively" ramps up its international network. It also is embarking on a long-haul cabin refurbishment project.
'NOTHING SHORT OF STUNNING'
Since coming under Tata ownership, Air India has rolled out a sweeping business transformation plan – known as Vihaan.AI – that will see regain lost market share and aggressively grow its presence.
Tata in late-November also announced plans to consolidate Air India with joint-venture Vistara.
In his note to Air India employees, Wilson says the past year has been "nothing short of stunning" for the carrier, noting that the airline has "embarked upon one of the most ambitious turnarounds in international aviation history".
"Even as we work on improving Air India, we have not shied away from other ambitious actions, such as merging Air India Express with Air Asia, or Vistara with Air India…[and] that's not to mention our much talked-about short- and-medium term fleet expansion," writes Campbell.
Stating that the airline will continue to communicate new changes with its employees, Campbell says: "Air India is on a journey to greater heights, and we want all of you to rise with it."
"As we step into year two of Air India 2.0, we acknowledge that in any project of scale, there will be challenges along the way. More than our successes, it is how we respond to our lapses these that will define us," he adds.