Air India is to lease six Airbus A320neos and six Boeing 777-300ERs, as it continues on an "aggressive expansion" that also sees a ramp-up in flights to European and North American cities.
Disclosing its fleet update on 5 December, the Delhi-based carrier says the new aircraft will be inducted in the first half of 2023. It also comes less than half a year since an earlier-announced fleet expansion plan, which saw it lease 25 A320neo-family jets and five 777-200LRs.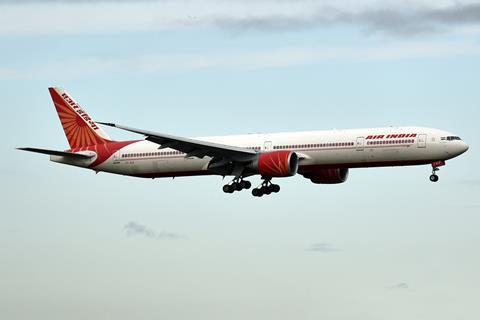 Air India says the A320neos will be deployed on domestic, as well as short-to-medium-haul international routes, while the 777s – to be configured in four classes – will operate from large Indian cities to long-haul international destinations.
The airline adds that it has returned 19 grounded jets to operations, with a further nine more to follow.
A long-term fleet plan is also in the works, notes airline chief Campbell Wilson, who adds that the additional aircraft leases "will support our near term growth".
According to Cirium fleets data, the airline currently has a fleet of 13 in-service 777-300ERs and 26 A320neos.
Air India also teased a network expansion in its latest statement: "Air India is set to commence direct flights from Delhi to key European cities like Milan, Vienna and Copenhagen, and from Mumbai to New York, Paris and Frankfurt."
The airline was acquired by Tata Sons in early 2021, after nearly 70 years of being state-owned.
In September this year, it rolled out a sweeping business transformation plan – known as Vihaan.AI – that will see regain lost market share and aggressively grow its presence. Tata would in late-November announce it would be consolidating Air India with its joint-venture Vistara.
The airline also recently graduated its first batch of A320 cabin crew and pilots since privatisation, adding 215 cabin crew and 48 pilots to its fold. Another 59 new pilots are in various stages of training, Air India adds.