Air New Zealand (ANZ) will ground its Boeing 777-200ER and 777-300ER fleets until at least the end of this year as part of organisation-wide cost-cutting measures.
Including deferrals of planned Airbus A321neo deliveries, the airline has also deferred or cancelled almost NZ$700 million ($430 million) of expected capital expenditure to December 2022, it said today in an earnings update.
Cirium fleets data shows that ANZ's existing fleet includes seven in-service 777-300ERs, between six and 10 years of age, and eight 777-200ERs, which are 13 to 15 years old and in storage.
The carrier also has seven in-service and stored A321neos, and another seven A321neos scheduled for delivery between January 2022 and April 2024.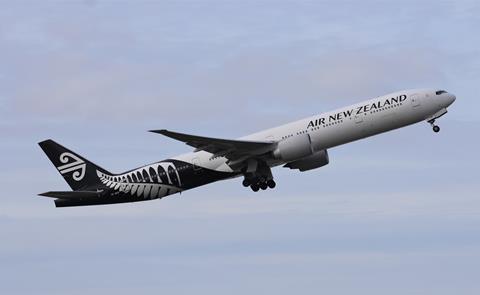 Other measures include cancelling non-essential spending, reducing leasing costs and modifying various vendor and supplier terms.
The company expects to see annualised savings of NZ$350-400 million from a previously announced hiring freeze and 30% cut in staff strength that will affect 4,000 employees, and has scaled down its executive team accordingly.
Short-term incentive schemes have been suspended for the financial year (FY) ending 30 June 2020, while the chief executive, executive team and the board agreed to reduce income and fees by 15% through to December 2020.
These moves will reduce Air New Zealand's average monthly cash outflows by approximately NZ$50 million to NZ$60 million for FY2021.
As at close of business on 25 May, the company's short-term liquidity stands at approximately NZ$640 million, and it has yet to drawn down on the NZ$900 million loan facility from the government.
"Like all businesses at this time, we find ourselves facing an environment where revenues will be a small fraction of what we are accustomed to," says chief financial officer Jeff McDowall.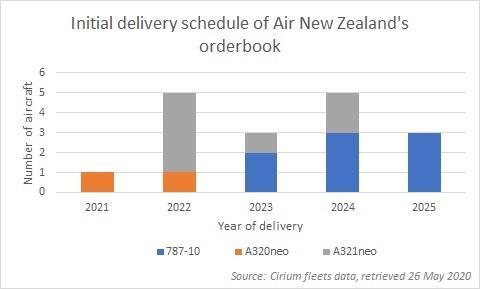 He adds: "We know that demand for air travel will eventually rebound, so we are cognisant of striking the right balance between removing cost from the business and ensuring the airline is in a strong position to ramp up as demand recovers."
McDowall tempers expectations that come with the resumption of domestic flights. He says, "The recent move to Alert Level 2 has been a welcome reprieve, allowing us to get the domestic engine turning again, however it is clear that it will take some time for demand to return to pre-Covid levels.
"We are preparing for a scenario in which the airline is still 30% smaller than pre-Covid levels in two years' time."
Air New Zealand expects a 50% year-on-year reduction in its January to June network capacity, driven by an approximately 90% reduction in the April to June period. It therefore expects to report an underlying loss for FY2020.
The company says: "Given there is still a high degree of uncertainty regarding demand for air travel under New Zealand's Alert Level 2, the period of time in which social distancing will be required on the aircraft and the timing of a shift to Alert Level 1, the airline will not be providing specific 2020 earnings guidance at this time."
In the same update, the airline disclosed its estimates of other significant items that are not included in its calculation of underlying earnings for FY2020.
Losses on hedges is estimated at NZ$85-105 million for the whole of FY2020. These are driven primarily by fuel hedges, as overall capacity and fuel consumption nosedived even as the airline maximised utilisation by operating charter and repatriation flights, and cargo-only missions. These were, however, partially offset by gains from closing out foreign exchange contracts relating to foreign currency operating revenues and expenditures which are no longer expected to occur.
The airline also expects to book a non-cash impairment charge of NZ$350-400 million relating to some of its 777 aircraft. Reorganisation costs could come up to NZ$140-160 million and it expects to gain approximately NZ$21 million from the sale of airport slots.
"As we begin to operate more flights our immediate priority is ensuring customer safety and restoring your confidence and desire to travel," chief executive Greg Foran says, addressing customers.
"There is no playbook for the situation we are currently facing, so we need to create our own."