Canadian carrier Air Transat has placed long-term lease orders for four new Airbus A321XLRs that will be delivered within several years, US lessor Air Lease Corporation (ALC) said on 8 September.
Three of the single-aisle, long-range passenger aircraft – capable of nonstop flights of up to 11 hours and 8,700km (4,700nm) – will be delivered starting at the end of 2025 through 2026, with the agreement including an option for a fourth A321XLR to be delivered the following year, ALC says.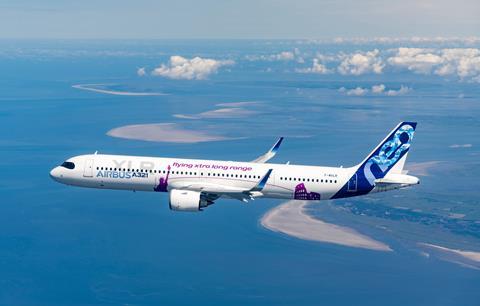 The aircraft will allow Air Transat to increase the frequency of its transatlantic flights without sacrificing passenger capacity, says Annick Guerard, Air Transat's chief executive officer, during a 8 September report on the company's fiscal third-quarter earnings results.
"It will allow us to offer European destinations all year long while reducing the risk compared to an [Airbus A330] operation, specifically during the winter season," she says.
Steven Udvar-Hazy, executive chairman of ALC, says the A321XLRs "will bring new levels of comfort and excellent service to Air Transat's passengers, while providing significant enhancements to the airline's operational efficiency."
Air Transat considers the A321XLR to be the most efficient aircraft for transatlantic flights both in terms of cost per kilometer and CO2 emissions per kilometer, Guerard says. Airbus flew the aircraft for the first time on 15 June, taking off from Hamburg-Finkenwerder airport for a four-hour, 35-minute test flight.
Air Transat also recently took delivery of two new medium-range A321s, bringing the airline's total to 12, Guerard says. The company expects another five to be delivered in 2023 and 2024.