AirAsia Group has converted its remaining orders for Airbus A320neos into the larger A321neo, as the low-cost airline group sets out to "transform" into an all-A321 operator in the longer term.
The group says that it has signed an amendment agreement with Airbus to switch its remaining 13 A320neos orders to A321neos, taking its total orderbook for the latter to 362 examples, with deliveries through 2035.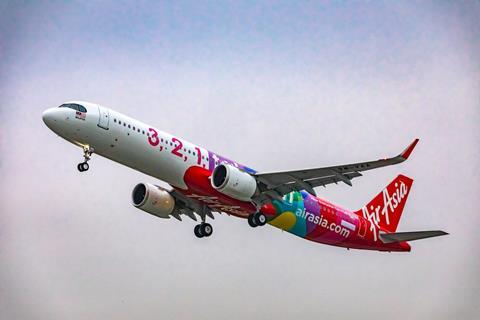 AirAsia Group says the aircraft "will be allocated" to its airline units — in Malaysia, Thailand, Indonesia and the Philippines — "based on demand". The A321neo, which seats 236 passengers, will eventually replace older A320s, says group president for airlines Bo Lingam.
"We look forward to a full A321neo fleet conversion that will further solidify our lowest cost base and lean cost structure," he adds.
The order swap also comes amid optimism surrounding "pent-up demand" in key AirAsia markets, which have been pummelled for more than a year by the coronavirus pandemic.
Says Lingam: "Our airline network and fleet strategy has been thoroughly reviewed to ensure flying on the most popular and profitable routes as we prepare for travel resumption across our network. Our business model is robust, and there is a lot of pent-up demand."
This is not the first time the low-cost group has converted its orders to the A321neo — at the 2019 Paris Air Show, AirAsia Group swapped 253 of its A320neo orders for the larger variant, becoming the latter's largest customer globally.
AirAsia Group first ordered the A321neo in 2016, announcing commitments for 100 jets. It took delivery of its first A321neo in November 2019, and currently has four examples in its fleet.
The group also has a fleet of 169 A320ceos and 38 A320neos across its airline units.