AirAsia Group's logistics arm Teleport is considering converting a "meaningful chunk" of AirAsia's massive order book to freighters in the future, as it takes delivery of its first dedicated cargo aircraft.
At a virtual press briefing on 3 November, Teleport chief Pete Chareonwongsak adds that the unit is "in discussions" with Airbus about a freighter version of the A321neo, but was coy about whether it would be the launch customer.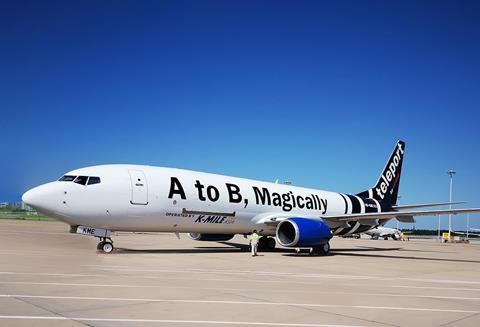 Leeham News in August first reported that Airbus was in talks with customers about a dedicated freighter version of the A321neo.
Asked for his thoughts on the potential freighter, Chareonwongsak says: "For a lot of the markets that we need to reach both in range but also in capacity, it's a great product. Would we be the launch customer? I don't know. We'll see."
However, he says Teleport "could potentially look to convert a meaningful chunk" of AirAsia Group's massive A321 orderbook into "dedicated operations". The low-cost group, which has airline operations in Malaysia, Thailand, Indonesia and the Philippines, has more than 360 A321neos on order.
His comments come as Teleport takes delivery of its first dedicated freighter, a Boeing 737-800 freighter operated by Thai cargo operator K-Mile Asia, after both parties inked a multi-year agreement.
The aircraft, registered HS-KME, will be based in Bangkok, and will operate on "specific routes with high demand", says Teleport chief operating officer Adrian Loretz.
Noting that demand is largely driven by e-commerce, Loretz says high-demand routes could include flying from Bangkok to India and China, as well as within the Southeast Asia region.
Teleport is also looking to grow the 737 freighter fleet to six examples in two years, though it is unclear if K-Mile Asia, which has two 737-800 freighters in its fleet, will operate all of them.
Chareonwongsak says the company is "still in discussions with K-Mile to increase our fleet, but we are [also] in discussions with a variety of parties. Nothing is set in stone yet".
AirAsia Group had first disclosed plans for a "cargo-only core network" in late-May, when it released its first-quarter financial results. In June, it announced expansion plans for the cargo market in the region, and said it was due to take delivery of a leased 737 freighter.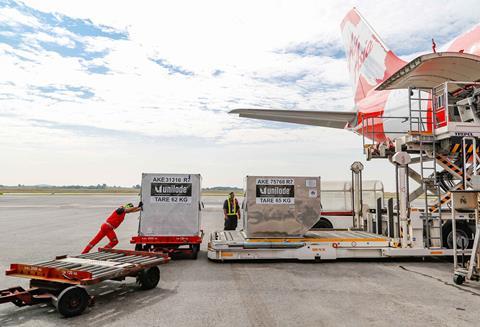 Chareonwongsak says Teleport's revenue since its inception under the group's digital business has made up around 40% of AirAsia Group's total, though he notes that this was because of weaker passenger travel revenue, as a result of the coronavirus pandemic.
He adds: "I think we've given guidance before … that Teleport is at least going to be 25% of the revenue of the [AirAsia Aviation] group going forward. That's been our desire to at least get to that level of scale, if we're successful at our own plans."
Cirium's fleets data indicates HS-KME first entered service in 2001 with Ryanair. It subsequently operated with Aeromexico and Garuda Indonesia, before being converted into a freighter in early 2021.