Malaysia-based AirAsia X expects to take delivery of Airbus A330neos and A321XLR long-range narrowbodies from 2026, as the airline cautiously restarts its network after a two-year hiatus.
Airline chief Benyamin Ismail tells FlightGlobal that the long-haul, low-cost carrier remains committed to taking delivery of the new aircraft, which will eventually replace its leased A330s.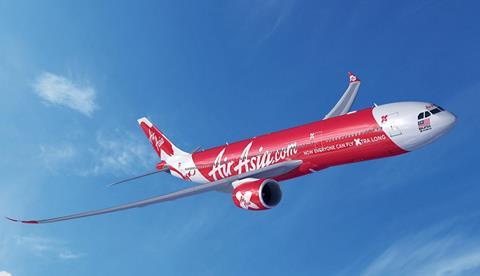 The A330neos are expected to arrive from 2027, while the A321XLRs will join the fleet a year earlier.
Ismail says the A321XLRs will "address markets where an A330 with a high-density configuration is too much capacity". He cites second-tier cities in China among examples of where the A321XLR, which recently performed its maiden test flight, could be deployed.
AirAsia X has 15 A330neos on order following a restructuring of its orderbook earlier this year which saw the carrier slash its previous 78-unit commitment to the re-engined widebody. In addition, it has 20 A321XLRs on order.
AirAsia X recently exited restructuring following a two-year "hibernation" amid the pandemic.
Ismail says the airline has six active A330s now, and is in the process of returning five remaining jets – currently stored – to service. By February 2023, he expects all 11 widebodies to be back in the skies.
Ismail also tells FlightGlobal that the airline intends to launch one-stop flights to London by Christmas this year.
In mid-June, AirAsia X teased a relaunch of London flights later in the year, marking its return to the European market after more than a decade.
Flights will be operated via Dubai with A330s. AirAsia X also said it will launch operations into Istanbul later in the year.
AirAsia X first launched services to London Stansted in 2009 with fuel-guzzling A340-300s. High operating costs and pressure on yields forced the carrier to axe the route, alongside Paris Orly, by 2012.