A bullish AirAsia X expects to double its operational fleet of Airbus A330s by mid-2023, as it aims to restore its pre-pandemic network in the coming year.
In its quarterly earnings, the medium-haul, low-cost carrier says it targets an operating fleet of 13 A330s by the first half of 2023, up from the current fleet of six aircraft.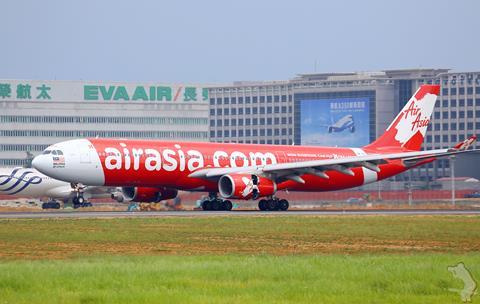 To boost its fleet, AirAsia X is looking to lease additional aircraft, adding that the process "is underway on varying stage of progress".
The affiliate of AirAsia Aviation Group had previously disclosed plans to operate 11 A330s – its full fleet – by February next year.
At an interview with FlightGlobal in June, airline chief Benyamin Ismail also said AirAsia X expects to take delivery of A330neos and A321XLR long-range narrowbodies from 2026. The airline has 15 A330neos and 20 A321XLRs on order.
The latest update comes as the airline reports "vigorous growth" in travel demand, as it exits restructuring and as markets in Asia-Pacific reopen.
By end-2023, the airline expects network and frequencies to be restored, and has teased "a number of additional brand new routes" to be launched, including to the USA. It is also "cautiously optimistic" about China's reopening "in the near future".
China – which is still largely shut off as part of a zero-infection strategy – remains a gap in the airline's network, as well as that of AirAsia Aviation's short-haul units.
The airline currently operates scheduled flights to 11 points in its network, including Sydney, Auckland, Sapporo, as well as Seoul Incheon.
Group chairman Mahmood Fawzy says: "We look forward to catering to the significant consumer demand for our return to services in these markets and many more coming soon."
He adds: "By the end of the year, we expect to reach over 15 hours of aircraft utilisation and daily frequencies to our core markets shall be introduced for selected routes with high demand."
The carrier swung to a net profit of MYR25.1 million ($5.5 million) for the three months to 30 September.
AirAsia X carried close to 81,000 passengers during the period, a ten-fold rise quarter on quarter. It also saw a four-fold increase quarter on quarter in seat capacity.
Story updated with additional information on aircraft leases.