AirAsia Group chief executive Tony Fernandes is still bullish about to taking delivery of all aircraft the low-cost carrier has on order with Airbus.
"Discussions [with Airbus] have been great, Airbus has been great," says Fernandes. "We're obviously are an important customer to them. Our team is working through, we want to take every single plane there…great plane, the A321."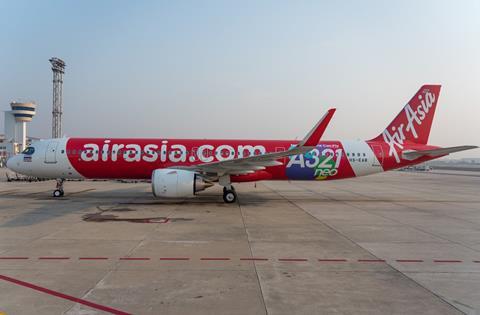 Fernandes says he could foresee taking some deliveries at the end of 2022, but stresses that it is impossible to make predictions given the vagaries of Covid-19.
Fernandes made the remarks in a discussion about AirAsia Digital with the Foreign Correspondents Association of Singapore.
According to Airbus's Orders & Deliveries report for June 2021, AirAsia has outstanding orders for 349 A321neos and 13 A320neos. Deliveries to AirAsia have stalled during the coronavirus pandemic, with the carrier's core market of Southeast Asia largely shut down since March 2020.
"If you had said to me that 18 months after Covid started that we'd still be in lockdown, I would have laughed, but we are," says Fernandes. "Look at Thailand. For most of the pandemic they had no cases, but now it's like a runaway train."
"It's hard to talk about delivery slots because we are not even flying," he adds. Two AirAsia Group carriers — in Thailand and Indonesia — have suspended all flights amid a Covid-19 resurgence.
Cirium fleets data highlights the challenge, showing that AirAsia's Malaysia unit has just 22 in service aircraft, with 73 in storage.
Fernandes adds that the large A321neo orderbook will also go some way to replacing older aircraft in the AirAsia Group.
"But in terms of quantum, I think we'll take [all the planes] because I think travel is going to come back very strongly…we're just negotiating it through."
As for a recovery in the region, Fernandes says it entirely depends on vaccinations. He estimates that Southeast Asia is five months behind the USA and Europe in vaccine rollouts. He notes that Malaysia aims predicting to be 80% vaccinated by the end of 2021.
Initially, he feels, travel will resume among vaccinated people. Moreover, testing is getting cheaper.
"By September, October you'll see domestic flying. By the end of the year you're going to start seeing borders open. Short-haul leisure travel will be the first benefit, business travel will take a long time to come back, and I think intercontinental travel will take a little bit longer as well."