American Airlines is set to lead US carriers in bringing the newly re-certificated Boeing 737 Max back to US skies, after the Federal Aviation Administration lifted the type's grounding.
Fort Worth-based American has already said it plans to operate Max passenger flights starting 29 December from Miami International to New York LaGuardia airports.
Other US Max operators United Airlines and Southwest Airlines on 18 November announced preliminary plans to bring Max back to service, but not until next year.
Earlier today, the FAA lifted its 20-month grounding order, clearing the jet to once again fly in revenue service.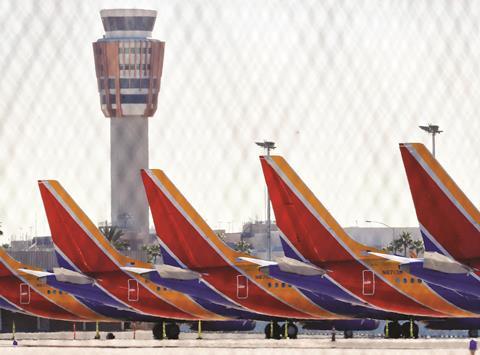 US airlines can now operate the Max again – but only after the jets receive specific modifications, and only by pilots who complete new training.The jets will have several other alternations, such as changes to horizontal stabiliser wires to comply with FAA regulations.
"We are taking a phased approach to return the aircraft to service," writes American chief executive Doug Parker in a note to employees. "We will begin with non-commercial flights in early December before the official return to service date to demonstrate that the 737 Max is as safe as every plane we fly at American."
The airline will use the aircraft for two flights a day – one round trip between Miami and New York – through 4 January, and then gradually phase more of the type into the schedule, with up to 36 daily departures from its Miami hub.
American has 24 of the jets in storage, and another 76 on order with Boeing, according to Cirium fleets data.
Dallas-based Southwest, meanwhile, says its aircraft will return to service "no sooner than the second quarter of 2021". Southwest has 34 of the type in storage, and 233 on order, data shows.
"There is much work to be done before our Max aircraft will resume service," Southwest chief executive Gary Kelly says in a note to customers.
"There is nothing more sacred to me than the safety of our customers and employees. If we had a cause for doubt of the safety of our fleet… the planes would not fly," he adds.
North & Latin American 737 Max customers
Airline
In storage
On order
Aerolineas Argentinas
5
9
Aeromexico
6
49
Air Canada
24
26
Alaska Airlines
0
32
American Airlines
24
76
Caribbean Airlines
0
5
Cayman Airways
2
2
Copa Airlines
6
58
Gol
7
95
Southwest Airlines
34
262
Sunwing
2
4
United Airlines
14
170
WestJet
13
44
Total
137
843
Source: Cirium fleets data
Chicago-based United says it aims to bring the aircraft back into service during the first quarter of 2021.
"United's Max fleet won't return to service until we have completed more than 1,000h of work on every aircraft, including FAA-mandated changes to the flight software, additional pilot training, multiple test flights and meticulous technical analysis to ensure the planes are ready to fly," the airline says.
CANADIAN APPROVAL
Canadian operators of the type include Calgary-based WestJet and Montreal-based Air Canada. WestJet says it will await Canadian regulator approval before disclosing plans to return the jet to revenue service.
Canada's transport minister signalled his country will "soon" follow the FAA in certificating the aircraft, but that there will be an "independent validation process to determine whether to approve the proposed changes to the aircraft".
That also means that US operators can not operate the jet in Canadian airspace until that country's regulator gives its blessing.
Other notable 737 Max operators in the Americas include Panama's Copa Airlines, with 13 of the type in storage and 58 on order, and Brazil's Gol, with seven stored and 95 on order. These airlines must also wait for their respective aviation authorities to re-certificate the aircraft before resuming service.
Last week, Gol's executives said they expect to return the Max to revenue service "as soon as the end of December 2020".