Alaska Airlines has ordered another 12 Boeing 737 Max 9s and taken 25 new purchase options – a deal handing another needed win to Boeing's rebounding narrowbody programme.
The 12 orders were converted from purchase options by Alaska, which expects to receive the jets in 2023 and 2024.
The new order brings Alaska's total outstanding number of 737 Max 9 orders to 88 jets. The carrier already has five 737 Max in service.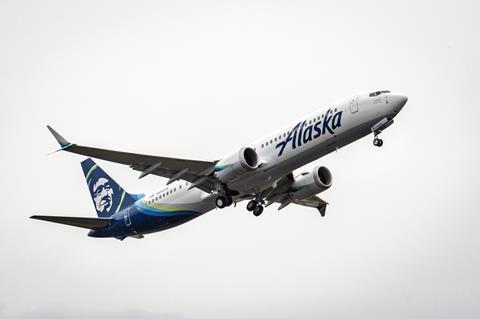 Alaska's updated fleet plan called for the Seattle-based airline to receive 12 737 Max 9s in 2021, 31 in 2022, 32 in 2023 and 18 in 2024.
The airline has made several changes to its Max orders in recent months. Until late last year, Alaska held orders for 32 737 Max 9s and options for another 37.
But in December 2020, the airline said it had revamped its agreements with Boeing to include 68 Max 9 orders and 53 options. Since then, Alaska has converted 25 of those option to firm orders and taken 25 new options.
Boeing, meanwhile, has landed several new Max deals in 2021, giving the programme momentum following the 18-month grounding that ended in November last year. In 2021 through the end of July, Boeing had logged orders for 535 737 Max, though it also reported 341 cancellations.