Alaska Airlines has taken delivery of its first Boeing 737 Max aircraft as it begins to streamline its fleet, in an effort to improve overall efficiency and profitability.
The Seattle-headquartered airline says on 25 January that it has scheduled the first revenue flight with the new aircraft, which carries the tail number N913AK, on 1 March. It will fly daily round-trips between Seattle and San Diego, as well as on the Seattle-Los Angeles route.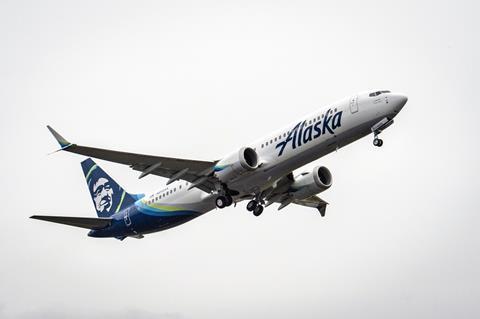 "We've eagerly waited for this day. It was a proud moment to board our newest 737 aircraft and fly it home," says Alaska Airlines president Ben Minicucci, who was on board for the short flight from Boeing's delivery centre to the airline's base at Seattle-Tacoma International airport. "This plane is a significant part of our future. We believe in it, we believe in Boeing and we believe in our employees who will spend the next five weeks in training to ensure we're ready to safely fly our guests."
Before the aircraft goes into service with passengers, it will spend 50 hours on "proving flights" to ensure its safety, and pilots will receive additional training on the type, including in a full-motion Max simulator, the airline says.
"We have high confidence in this aircraft. It's a tremendous addition to our fleet, and we're ready to start flying it in March," says John Ladner, the airline's vice-president of flight operations and himself a 737 captain.
In December, the carrier said it will receive 68 Max aircraft in the next four years, with an option for 52 more. In 2021, it will take on 13, next year 30, another 13 in 2023 and 12 in 2024, the airline says. Alaska adds that this agreement with Boeing incorporates the November announcement of an agreement to take 13 737s from Air Lease.
All of the 68 Max aircraft will fly with sustainable aviation fuel, the airline says.
Following the new deal with Boeing, Alaska indicated that it would abandon an order for 30 A320neo jets that it inherited – alongside an A320-family fleet – with the acquisition of Virgin America in 2018. It is looking to shed its Airbus aircraft in favour of the Max, accelerating a cost-saving transition back to an all-Boeing fleet. Alaska had operated only 737s before acquiring Virgin America in 2018.
On 18 November, the FAA cleared the Max to return to passenger service, following a 20-month grounding after two fatal accidents killed 346 people.
Alaska reports fourth quarter 2020 earnings results on 26 January.