Australia's Alliance Airlines will on 10 April launch commercial service with its recently acquired Embraer E190 fleet, out of Adelaide and Darwin.
The regional operator, which previously operated an all-Fokker fleet, received regulatory approval from the Civil Aviation Safety Authority on 31 March and received a revised Air Operators Certificate.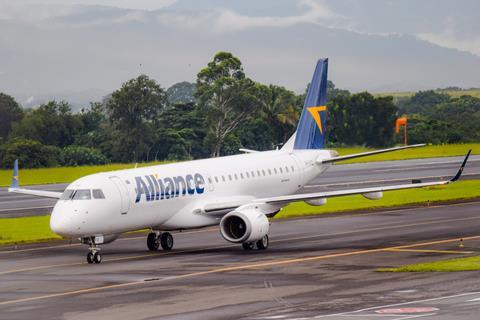 It stated: "This follows an intense six-month programme of aircraft and spare parts acquisition, maintenance, training and regulatory and compliance checks."
Alliance disclosed in August that it was acquiring 14 E190s from Azorra Aviation and in December signed for another 16 E190s from Jetran, both US-based lessors.
"The full 30 aircraft are to be utilised for expansionary purposes," the operator reiterates in today's disclosure.
Alliance said that 18 of the E190s have been paid for and delivered. Of these, five were delivered to Australia, three are currently overseas undergoing base maintenance, and 10 in storage pending base maintenance.
The outstanding 12 jets will be delivered progressively through to November.
It added that its pilots are currently training with Finnair in Helsinki and expects its full flight simulator to be available for use in early May.
Alliance's wet lease agreement to provide flexible capacity to the QantasLink network with three of the E190s will commence as scheduled on 25 May, it says in its latest update. These aircraft will also be based in Adelaide and Darwin.
The operator says that its fleet of 43 Fokker aircraft are in revenue service and deployed across fly-in fly-out, charter, and wet lease operations.