Australia's Alliance Aviation is to acquire 30 Embraer E190s through a sale-and-purchase arrangement with Irish lessor AerCap, with first deliveries starting in September.
Alliance says the new jets – currently operating with an undisclosed US airline – will be purchased one at a time, over a two year period, funded by a mix of debt and cash through the airline's existing operations.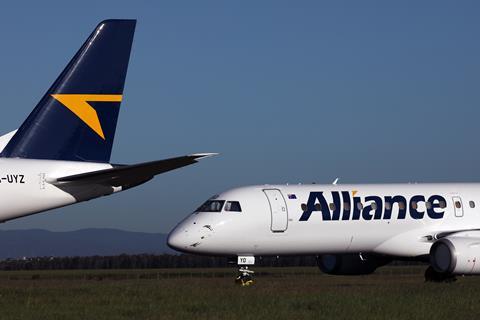 "Final purchase price for each aircraft will be adjusted for the maintenance status of the airframe and the two fitted engines in the week preceding each delivery. Accordingly, there is a significant degree of variation in unit cost and a totally firm fleet price is unable to be given at this time," says Alliance in a 27 February filing.
The acquisition comes days after compatriot Qantas announced it was increasing the number of E190s wet-leased from Alliance from 18 to 30 examples. Wet lease terms for the E190s have also been extended from three to seven years, with two-by-two year lease extension options available.
Alliance's latest acquisition will see its E190 fleet increased to 63 examples by January 2026, in addition to 37 Fokker 70/100s.
Alliance managing director Scott McMillan says: "This acquisition will provide Alliance with increased capacity access to major [components] including engines and enhanced operational capability."
Story has been amended to reflect the transaction as a sale-and-purchase agreement.