American Airlines says it is still negotiating a compensation agreement with Boeing for the grounding of the airline's 737 Max fleet, now in its 10th month, and that it expects to share the proceeds with its employees.
The aircraft, which was involved in two deadly crashes which killed 346 passengers, has been grounded worldwide since mid-March 2019.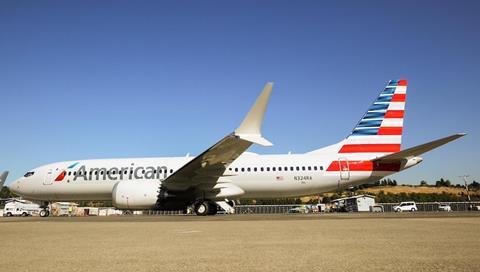 In October, the Fort-Worth-based airline's chief executive Doug Parker said the grounding of the fleet of 24 Max aircraft had cost it up to $540 million in pre-tax profit in 2019. American still has 76 Max aircraft on order.
"We are currently in talks with Boeing as to what that compensation looks like," American spokesman Ross Feinstein tells FlightGlobal on 2 January. "We anticipate that part of any compensation American receives will be eligible for profit sharing for our team. Conversations with Boeing are still ongoing, and we'll share more details as soon as they are resolved."
Earlier this week Turkish airlines confirmed that it "came to an agreement" with Boeing concerning "compensation for certain losses" caused by the grounding as well as the non-delivery of 737 Max aircraft. The carrier is intending to introduce 75 Max jets to its fleet, comprising 65 Max 8s and 10 of the larger Max 9. But while it has received 12 of the re-engined aircraft, deliveries were held up by the worldwide grounding of the type in March.
Turkish did not disclose the extent or nature of the compensation, nor whether the agreement is a final or interim arrangement.
Boeing also agreed to compensate Southwest Airlines for a portion of projected financial damages from the grounding, and the Dallas-based airline also said it intends to share approximately $125 million of the compensation with its employees in the form of incremental profit sharing. The terms of this agreement also remain confidential.
The prospects for returning the 737 Max to service remain bleak, as the Federal Aviation Administration continues to scrutinize the program. The regulatory body has not indicated when it could re-certificate the aircraft, repeatedly saying that it will not do so until it determines that it is safe.
American Airlines has taken the plane out of its schedule through 6 April and Boeing is set to cease production of the jet in January pending further clarity on its future.