American Airlines will take more Boeing 737 Max and has delayed delivery of some 787 Dreamliners, the company says in a filing with the Securities and Exchange Commission on 2 February.
The Fort Worth-based carrier says it has agreed to convert 23 options for 737 Max 8 aircraft to firm orders, and that it plans to convert seven more in 2022. Half of those will be delivered in 2023, and the rest a year later.
In addition, the airline will defer delivery of some 787-9s, which had previously been scheduled for delivery beginning in January next year.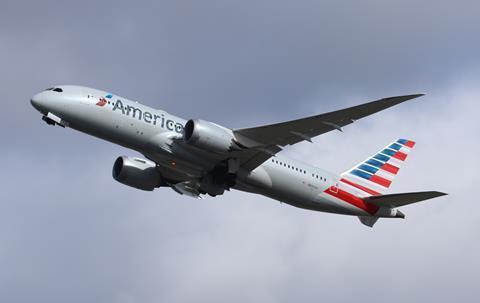 "Pursuant to this amendment, deliveries of these 787-9 aircraft will commence in the fourth quarter of 2023 and will continue into 2027, with four 787-9 aircraft now scheduled for delivery in 2023," the company writes in the filing.
Boeing has been having trouble with the 787 programme and was forced to pause deliveries for much of 2021. Deliveries remain halted due to manufacturing quality defects that include gaps in fuselage sections being wider than Boeing's specifications.
The US airframer has not said when 787 deliveries might resume, noting the process remains dependent on Federal Aviation Administration approval.
According to Cirium fleets data, American has 46 Dreamliners in service and 43 on order – distributed between 13 787-8s and 30 of the larger 787-9 versions.
Of those currently in the fleet, 24 are 787-8s and 22 are 787-9s.
On 20 January, the airline said Boeing would pay 787 delivery-delay penalties and that the carrier could be due additional payments if Boeing does not adhere to a revised delivery schedule. That schedule calls for American receiving 787-8s from Boeing around April, and taking four of those in time to have them flying by summer, American chief financial officer Derek Kerr said.
American also currently operates 42 Max 8s, with 58 more on order.