American Airlines expects Boeing will resume deliveries of 787 Dreamliners in the course of this quarter after the airframer has paused deliveries for most of the past 21 months due to quality issues.
The airline expects to receive nine 787-8s this year, and four more in 2023. Two airframes are expected to arrive with the Fort Worth-based carrier as early as next month, chief executive Robert Isom said during the company's quarterly investor call on 21 July.
American currently operates 24 of the type, and 22 787-9s.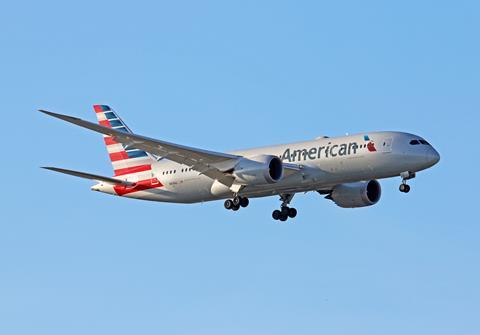 Boeing stopped delivering the aircraft in October 2020, and briefly resumed in 2021 before pausing again. Many of the company's airline clients have been waiting for the delayed aircraft. American says it is also making contingency plans in case of further delays.
"We don't have any built into the schedule until November, so if they do slip from August we have almost a two-month pad," Isom says. "We don't think that would impact the fourth quarter a lot."
If the jets are further delayed, American's capacity would be only "one percentage point less per month" than it would have been, Isom adds.
Delivery of the airline's Airbus A321XLRs are also delayed. The company now expects the first of those to arrive in the first quarter of 2024 rather than the fourth quarter of 2023, as planned.
American has 50 of the extra-long-range A321s on order with the Toulouse-based airframer.