Boeing is paying 787 delivery-delay penalties to American Airlines, and the Oneworld carrier could be due additional payments if the manufacturer does not adhere to a revised delivery schedule.
That schedule calls for American to being receiving 787-8s from Boeing around April, and to take four of those in time to have them flying by summer, American chief financial officer Derek Kerr said during American's fourth-quarter 2021 earnings call on 20 January.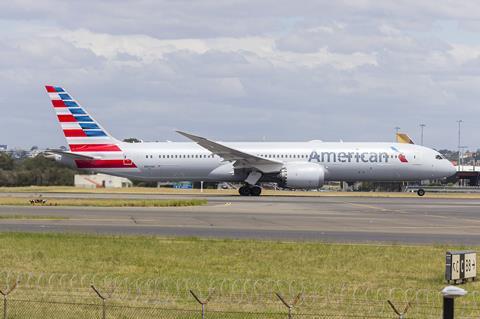 Boeing halted 787 deliveries for much of 2021 due to manufacturing quality problems including gaps between fuselage sections that failed to meet specifications. The company is working to receive Federal Aviation Administration approval of required rework, which will allow it to resume deliveries.
As a result, 13 787s due for delivery to American have been delayed, the airline has said. American expects to receive all those jets in 2022, says Kerr.
Boeing is already "paying the delay penalties", says Kerr. "If it… impacts the summer much more than we think it will, we will have discussions with Boeing [about compensation] for the losses."
Boeing is "on track, as of today, to hit that mid-April timeframe" for resuming deliveries, Kerr adds.
The 787 delivery problems forced American to revamp its 2022 plans by trimming international flying.
"With the 787 [delays], we will be a materially smaller airline than we would like to be" in 2022, says American chief revenue officer Vasu Raja.
American's 2022 international capacity will be 75-80% of pre-pandemic levels, though capacity on short-haul, narrowbody-operated flights will be "a lot closer" to the 2019 benchmark, Raja says.