KLM Cityhopper believes the arrival of its first Embraer 195-E2s can help to spearhead the Dutch carrier's recovery from the pandemic downturn as the new jets will offer the wider group greater flexibility.
When it originally ordered the 132-seat E195-E2s at the 2019 Paris air show they were envisaged as a direct replacement for its older 100-seat E190s.
However, Warner Rootliep, managing director of KLM Cityhopper, says that given the changed operating environment with lower passenger numbers, the new jets will also be used to replace certain of the mainline carrier's Boeing 737-700s as leases expire.
KLM Cityhopper received its initial E2 on 25 February, with a second example due this weekend; an additional four aircraft will arrive before the summer season, he adds. Accordingly, the airline's fleet will expand from 49 prior to the E2's arrival, to 53 for the summer.
"Because of the restructuring of KLM, our fleet will grow slightly bigger because the smaller aircraft suit the market slightly better and will take over some of the routes that [the mainline carrier] used to fly.
"We believe that the E2 is an aircraft that suits the recovery plan very well," he says, pointing out that the regional fleet, which includes 88-seat E175s, "creates flexibility" to "fit the needs of the whole network".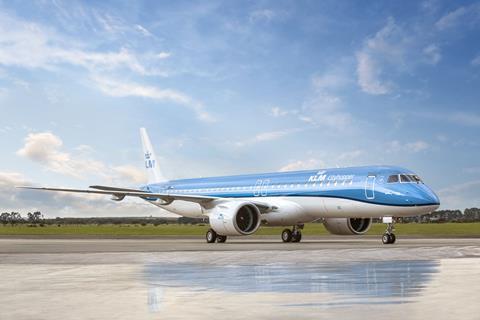 In addition, the regional carrier has advanced the delivery of "two or three" aircraft from 2024 to 2023. Broadly, it will take seven aircraft per year until 2023, with the balance the following year.
Cityhopper has a total of 25 E195-E2s on order, having recently firmed up four of 14 options. The initial tranche of aircraft are being taken on lease via ICBC Leasing (10) and Aircastle (15).
A first revenue service with the Pratt & Whitney PW1900G-powered jet will be operated on 1 March, linking KLM's Amsterdam Schiphol base with Polish capital Warsaw.
Rootliep says the new aircraft offer significant advantages for passengers thanks to their new Recaro seats, larger overhead bins, mood lighting and a quieter cabin; Viasat in-flight connectivity will be added once the system is certificated on the E2, he says.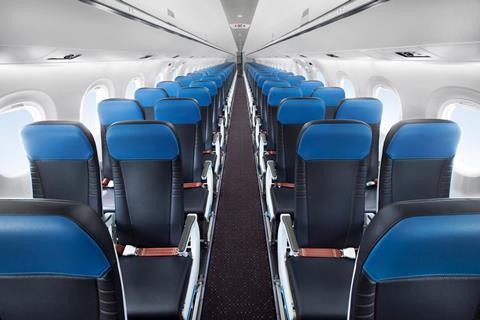 He also touts the fuel savings offered by the next-generation E2 over the earlier E190s: 9% on a per-flight basis or 30% per seat. Exterior noise is also cut by 60%.
While replacing older aircraft will not on its own enable KLM to meet its net-zero carbon emissions target by 2050, it is a "step in the right direction".
Cityhopper continues to wrestle with subdued demand thanks to travel restrictions – notably with its 17 routes from Schiphol to the UK on hold.
Last year it maintained services to 90% of destinations, albeit at lower frequencies, he says, although that figure has since slipped.
"We are waiting for better times," says Rootliep. Bringing the new jet into service "provides a glimmer of hope", he says, and offers "light at the end of the tunnel".