The parent company of Atlas Air has ordered four new Boeing 747-8 freighters amid the ongoing shortage of air freight capacity that increases demand for cargo services during the coronavirus pandemic.
Atlas will dry lease the 747s through its subsidiary Titan Aviation Leasing, reasserting its claim to be the world's largest operator of 747 freighters.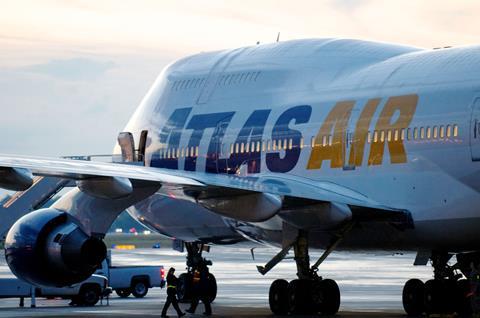 The combined fleet of Atlas Air Worldwide Holdings includes 53 747 freighters spread across its carriers Atlas Air and Polar Air Cargo, while Southern Air operates a fleet of nine Boeing 777 freighters, Cirium fleets data shows.
Atlas chief executive John Dietrich in a statement says the new 747-8 type freighter "is the best and most versatile widebody freighter in the market".
Boeing says these four 747-8 freighters will be the last of that type produced by the airframer.
Looking beyond the coronavirus pandemic, Boeing Commercial Airplanes chief executive Stan Deal says he expects the global air cargo fleet will "grow by more than 60% over the next 20 years", and the airframer looks forward to supporting Atlas Air's Boeing fleet even after the 747 production ends.
Global air cargo volumes were down 6% year on year during November, according to trade group IATA, which forecasts that air freight will represent a third of airline revenue during 2021.
Half of global air freight in 2019 was carried in the bellies of passenger aircraft, so the grounding of thousands of aircraft depressed supply even more than demand. The 28% year-on-year decline in global air freight traffic in April was the sharpest drop IATA had ever recorded, yet capacity that month dropped even lower by 42%.
Atlas Air was able to fill that air freight void when the travel downturn hit during the second quarter of 2020. The Purchase, New York-based cargo carrier reported an operating profit of $121 million during the second quarter, 13 times higher compared with that quarter during 2019 when a trade war between the USA and China seemed unavoidable. Those trade problems may not be resolved by the end of the pandemic, but for now carriers that can provide cargo aircraft are somewhat insulated from the air travel downturn.