Australia's Alliance Aviation has retired – and sold – its fleet of Fokker 50s, citing customer preference for jet aircraft on charter operations.
The move, disclosed in an 8 August filing, also marks the end of turboprop operations for the charter operator, which began Fokker 50 operations nearly 15 years ago.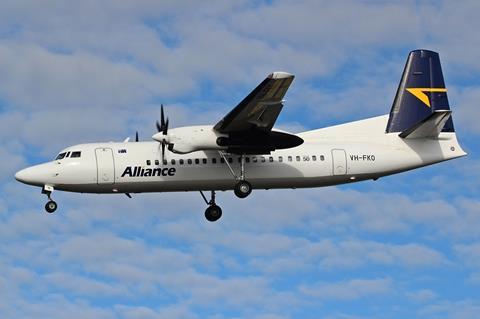 Alliance's fleet of five Fokker 50 turboprops are based in South Australia, servicing the Adelaide-Olympic Dam charter operators for mining giant BHP. The airline recently switched to jet aircraft operations for the route, after Olympic Dam airport upgrades which now allow for jet operations.
"The company has concluded a review on the Fokker 50 fleet which included using the turboprop aircraft for existing and potential customers. Overwhelmingly, the preference of these customers was for jet aircraft on their charter services," states Alliance.
The carrier – the subject of an acquisition deal from compatriot Qantas – also found that other shorter routes with "lower passenger requirements" were found to be "non-core to the Alliance business".
"It was therefore concluded that the turboprop fleet is to be retired early and subsequently sold," the airline adds.
To this end, Alliance has inked a contract to sell its turboprop fleet – including spare engines, parts and ground support equipment – in a deal that will result in a non-cash accounting write-down of A$12.1 million ($8.4 million).
"This fleet change will result in substantial [profit before tax' cost savings related to engineering, crewing, infrastructure and training costs, which the company estimated to be about A$4.4 million per annum," says Alliance.
The airline will now have a fleet of 20 Embraer E190 regional jets, as well as 37 Fokker 70 and 100s. Alliance notes that its the Fokker jet fleet is "scheduled to continue to operate for at least 10 years".
According to Cirium fleets data, the outgoing fleet of Fokker 50s, powered by Pratt & Whitney PW125 engines, are between 26 and 32 years old.
With Alliance retiring its Fokker 50s, remaining operators now include Air Panama, Iranian operator Karun Airlines, as well as Kenyan carrier Freedom Airline.