Austrian Airlines is reconverting the last aircraft it had temporarily turned into a freighter during the Covid-19 pandemic, as long-haul passenger services resume.
The Lufthansa Group carrier was one of a number of airlines that removed the seats on widebody aircraft to make room for cargo as demand for passenger flights collapsed last year.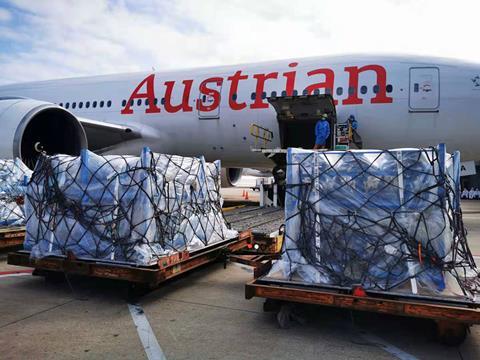 Austrian removed the seats on two of its Boeing 777-200ERs in March 2020, to enable it to transport medical equipment from Asia to Europe as the pandemic spread across the world and demand for passenger flights slumped.
The airline says in a Twitter post that after carrying out 159 flights and transporting 4,500 tonnes of relief supplies, it is now ending its "preighter" operation. The last converted 777, OP-LPA, is having its seats reinstalled at Austrian's technical department in Vienna in time for the peak summer travel season.
From July, the aircraft will be deployed on passenger flights to North America and other long-haul destinations, says the airline.