British Airways intends to return its Airbus A380s to service, making it an exception to a trend away from operating the four-engined superjumbo among its European peers.
Speaking during a Royal Aeronautical Society conference on 15 March, BA chief executive Sean Doyle explained that the A380 "works very well in a number of larger markets".
The type is therefore "an important part of our fleet, and at the minute our plans are to obviously fly [it again]," he says, without discussing a timeline for its return.
Pre-crisis, the Oneworld operator's 12 A380s – which are all currently in storage – had been deployed to destinations including Johannesburg, Los Angeles, Hong Kong and Singapore.
Elsewhere in Europe, Air France has said it will not return its A380s to service, while Lufthansa has all-but-confirmed that it will follow suit. Further afield, reports suggest that Etihad Airways is the latest carrier to cast doubt on the A380 being seen in its livery again.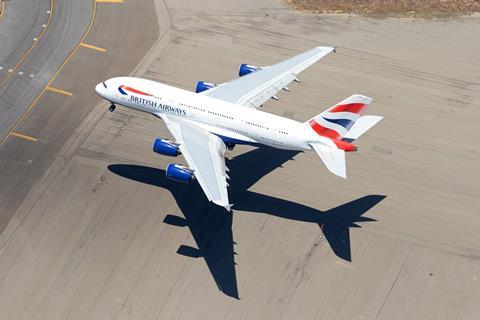 While the A380 may have a future with BA, Doyle was also keen to highlight the carrier's retirement of its Boeing 747 fleet in the early weeks of Covid-19 crisis – with more-efficient A350s and 787s eventually filling the gap – as an important decision for the operator in terms of its sustainability strategy.
"With global energy building around climate action, that's going to be a bigger part of how we operate in the future," Doyle states.
And amid the pressure for carriers to address challenges around sustainability, the very concept of four-engined aircraft is on borrowed time.
"I don't know of anybody who is developing a new four-engine variant," Doyle says. "Unless it's part of some game-changer in terms of efficiency that we don't know about."
Hydrogen-powered jets may be the eventual solution to reducing the industry's environmental footprint, Doyle continues, although he notes it could be "10 years for short-haul aircraft" to begin using the technology, "and maybe 20-30 for long-haul" types.
Nevertheless, Doyle highlights BA's partnership with hydrogen powertrain developer ZeroAvia, stating: "A journey of a thousand miles starts with a single step."
BA's current widebody fleet features eight A350-1000s, 12 A380s, 16 777-300ERs, 43 777-200ERs, 12 787-8s, 18 787-9s and two 787-10s, according to Cirium fleets data.
It has widebody orders in place for 10 A350-1000s, 10 787-10s and 18 777-9s, the data suggests.