German leisure carrier Condor has unveiled a new "brand identity" that will see its aircraft painted with a striped livery intended to evoke colours and designs associated with holidays.
The operator's aircraft will be variously adorned with yellow, red, blue, green and beige stripes on a white background, in a brand refresh inspired by "parasols, bath towels and beach chairs".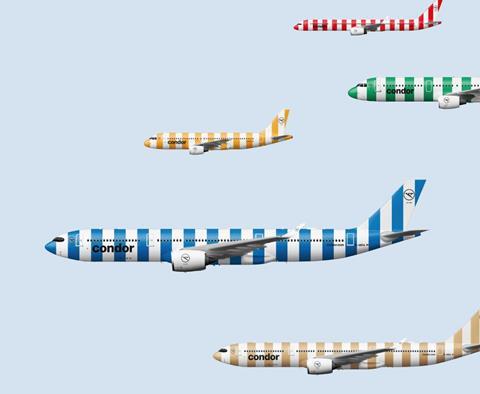 Six of Condor's aircraft will operate with the paintwork during the 2022 summer season, the airline states, comprising a mix of Airbus A320s, A321s and Boeing 757s.
The carrier's first A330neo – which is due to enter service in the autumn – will also feature the livery, Condor having selected the type for its long-haul fleet-modernisation programme in July last year.
What a great livery !! really fan ! That's change from all Eurowhites Airlines!! Brand New colors for @Condor ! First #Airbus #A330neo with the green livery ! pic.twitter.com/FaBpRLqUKy

— Clément Alloing (@CAlloing) April 4, 2022
Condor's logo has also been updated, the airline notes, with "finer, more dynamic lines", while the "Condor" lettering on the fuselage is now all-lower-case.
"Condor has undergone a transformation over the past two and a half years, from a subsidiary of a vertically integrated travel group to an independent airline that looks back proudly on its history and tradition, while at the same time embarking on the path to the future," says Condor chief executive Ralf Teckentrup. "We want to express this unmistakably through our corporate identity: Condor is vacation and Condor is unmistakable – like our new design, with which we are now launching into the future."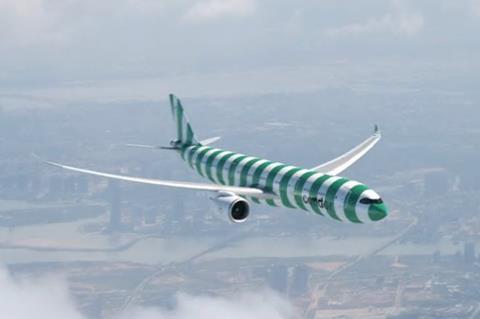 Around 80% of the fleet is to be repainted by 2024, the airline states.
Crew uniforms and other instances of Condor branding will also be updated in line with the scheme.