Alaska Airlines has firmed an order for 23 Boeing 737 Max 9s, securing the jets after having in December announced an intention to acquire them.
The Seattle-based carrier says in a securities filing that the newly signed deal calls for the 23 aircraft to be delivered in 2023 and 2024.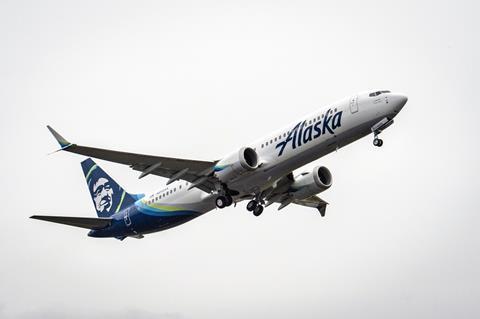 The sale throws more momentum behind Boeing's best-selling narrowbody, further bolstering a backlog that until recently had been dwindling due to cancellations.
Alaska's agreement with Boeing also gives it the option to acquire a further 15 737 Max 9s between 2023 and 2026.
The airline now holds firm orders for 68 737 Max and options for another 52.
In December, Alaska said it had signed an "agreement in principal" to buy the 23 jets.
The airline will use its incoming 737 Max to replace Airbus A319s and A320s, it has said.
Alaska also operates 10 A321neos and holds "cancelable purchase commitments" covering 30 A320neos, according to securities documents.