Boeing pitched a freighter version of its 777X to aircraft lessor Air Lease before that company decided instead to become launch customer for Airbus's newly announced A350F.
Steven Udvar-Hazy, executive chairman of Los Angeles-based Air Lease, disclosed Boeing's sale pitch when speaking during the Skift Aviation Forum on 17 November.
"Boeing made a pitch on the 777X Freighter, which will come later, probably around 2028," Udvar-Hazy says.
Boeing has not launched that aircraft but has hinted it might.
Udvar-Hazy made his comments while speaking about the sales competition that ultimately led Air Lease to commit to purchasing seven A350Fs. The lessor disclosed that commitment, which positions it to be the A350F's launch customer, during the Dubai air show on 15 November.
Air Lease had also evaluated ordering 777Fs and freighter-converted A330s and 777s, Udvar-Hazy says.
But, after talks with "half a dozen" large airlines, "it was pretty obvious that the [A350F] was a good airplane", he says. "Finally, Airbus had all the ingredients for a successful dedicated [freighter]".
That Air Lease already has A350s in its portfolio made the decision easier, he adds. The company's fleet includes 14 in-service A350s (12 A350-900s and two A350-1000s), and it holds orders for 16 of the jets (eight A350-900s and eight A350-1000s), according to Cirium data.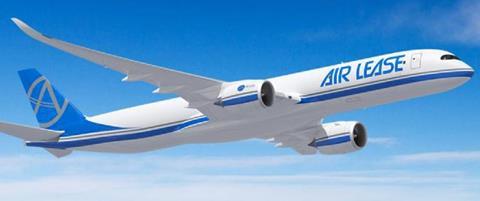 Air Lease rolled its A350F commitment into a larger commitment, also announced at Dubai, to acquire 111 Airbus jets. Those include the seven A350s, 25 A220-300s, 75 A321neos (including 20 A321XLRs) and four A330neos.
"We basically piggybacked the A350F [commitment] onto our single-aisle deal", the result being "a better economic result for Air Lease on the entire transaction", says Udvar-Hazy.
The A350F is to be a slightly shorter version of Airbus's A350-1000, with a 319t maximum take-off weight and payload capability of 109t.
Air Lease intends to convert its 111-aircraft commitment into an order "in the coming months", it says. The lessor indicates it expects to begin receiving the A350Fs around 2026.
Airbus's board in July approved the A350F's development – a move thrusting Airbus more closely into competition with freighters made by Boeing, which has traditionally dominated the freighter market.
Boeing executives have repeatedly suggested the company will develop a freighter variant of its 777X, with the company's senior vice-president for commercial sales and marketing Ihssane Mounir saying in recent days that the company is in "advanced discussions" about the project with potential customers.
A 777X Freighter "looks very good from a design and requirements standpoint", Mounir said.
But first, Boeing is working to certificate the 777-9, a passenger aircraft and the first 777X variant. The Chicago company aims to begin delivering the type in late 2023.
Boeing already produces 767Fs (based on its 767-300) and 777Fs (based on its 777-200LR).